21th Salzkammergut-MTB-Trophy 2018
Date: Fri, Jul. 13, 2018
Location: Bad Goisern, 4822 Bad Goisern
Info: 220 km - 7000 metres in altitude. The bike weekend around Lake Hallstatt and the Gosau Valley. From 13th to 15th July 2018.
To the hell and back -  From 13 to 15th of July 2018
The first half of the extreme distance stays as it was. Instead of doing the first loop twice, the second loop leads over Obertraun, Hallstatt and Gosau, just as it did in the years 1998 - 2003, with hardly any changes. There are some new tracks like the new bike trail on the eastern shore of lake Hallstättersee for instance. There will also be a new trail between Gosau and Hallstatt, so that bikers don't have to carry their bikes. The Trophy B-distance will completely follow the second loop of the 220km trail. The trails of the 27 km and 53km tracks will stay completely as they were. You will already find a plan of the new trails on the trophy website. You can download your registration form starting from the End of February.
To the hotel and back -
your accommodation for Salzkammergut MTB Trophy
Thousands of riders come each year to Austria's largest mountain bike event in the UNESCO World Heritage region of Hallstatt Dachstein Salzkammergut, which is run under the motto "To Hell and back". To make it easier for you, we have listed a number of accommodation providers who specialise in mountain bikers. Our tip: Send inquiries and book early. This way you have the largest selection of attractive accommodation around Lake Hallstatt and the Gosau valley. And should you not find the right one here - just take a look at our larger accommodation directory.
Here you will find an excellent selection of friendly hosts in the Dachstein Salzkammergut holiday region. See you at the Salzkammergut MTB Trophy 2016 in Bad Goisern. Enjoy the ride!
Book online now!
Quickly and securely to the most beautiful apartments, the best hotels, the most cozy guest houses (B & B's) and the most spacious holiday homes around Lake Hallstatt and the Gosau Valley. Don't look around - book now! Just a click away!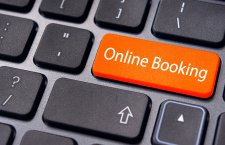 For years the Salzkammergut Trophy has been regarded as one of the best-organised marathons in Europe and was recently awarded with the "Bikeboard-Award" by the readers of Austria's biggest mountain-biker magazine, the Mountainbike Revue, and it has been amongst the front runners for years in the international popularity ranks. This is a tribute not only to the town of Bad Goisern on Lake Hallstatt, the tourism association, locals clubs, the police force, the Austrian Red Cross and the Mountain Rescue Team but also to more than 500 volunteer helpers and many excited spectators all along the perfectly marked route.
Information at a glance
Tourist Office Bad Goisern
Ferienregion Dachstein Salzkammergut
Tourismusverband Inneres Salzkammergut
Kirchengasse 4
A- 4822 Bad Goisern, Österreich
Phone: +43 (0) 5 95095 10
E-Mail: info@dachstein-salzkammergut.at
Bus stop: Bad Goisern Mitte/B145

Opening times Tourist Office Bad Goisern:
December to May: Mon – Fri 8:30 - 17:00 hrs. / Sat, Sun & Holidays 9:00 - 13:00 hrs.
June to October: Mon – Fri 8:30 - 18:00 hrs / Sat, Sun & Holidays 9:00 - 15:00 hrs.
November: Mon – Fri 8:30 - 17:00 hrs. / Sat, Sun & Holiday closed