World Heritage cookiemarket
Date:
Location: ev. Altenheim, Bahnhofstraße 1, 4822 Bad Goisern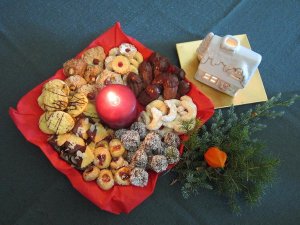 Come and visit the cookiemarket "Kekserlmarkt" in the Goiserian Altenheim. Here you will find a selection of typical "Kekserl" (biscuits). Christmas spirit with homemade biscuits at the Salzkammergut Kekserlmarkt! These cookie "Kekserl" are made with love from farmer's wifes of the UNESCO World Heritage region of Hallstatt Dachstein Salzkammergut, various clubs from Bad Goisern and Bad Ischl. A glass of hot wine "Glühwein" can not be missed!
World Heritage Advent in Austria
Around Lake Hallstatt: Be enchanted by the numerous events of the World Heritage Advent. Some of those events have attracted way beyond the region since many years. So just be enthralled by those highlights of the advent.
Your accommodation for this event
Information at a glance
Unser Tipp: Laden Sie sich bequem Preise, Öffnungszeiten und weitere Informationen für Ihren Urlaub in der Ferienregion Dachstein Salzkammergut als PDF auf Ihr Tablet oder Smartphone. So sind Sie immer bestens informiert!  Unformationen folgen ab Oktober 2015
Advent in der UNESCO Welterberegion Hallstatt Dachstein Salzkammergut. So zauberhaft ist die Vorweihnachtszeit am Hallstättersee und im Gosautaltal – alle Veranstaltungen auf einen Blick.
Contact
Tourist Office Bad Goisern on Lake Hallstatt
Ferienregion Dachstein Salzkammergut
Tourismusverband Inneres Salzkammergut
Kirchengasse 4
4822 Bad Goisern, Österreich
Austria
Phone: +43 (0) 5 95095 10
E-Mail: info@dachstein-salzkammergut.at
Bus stop: Bad Goisern Mitte/B145

Opening times
Tourist Office Bad Goisern
November to April: Mon – Fri 8.30 - 17:00 hrs.
Sat./Sun./Holiday 9.00 - 15.00 hrs
May to October: Mon. – Fri. 8.30 - 18.00 hrs.
Sat, Sun & Holidays 9.00 - 15.00 hrs.