Children's snow party in the ski area of Dachstein West
Date: Wed, Feb. 21, 2018
Time: 10:00 — 15:00
Location: Brumsiland, Gosau 701 4824 Gosau
Info: Big kids snow party with funny game stations, free children punch, Live-DJ, tombola and BRUMSI ski race.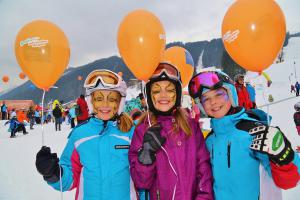 On 21th of February 2018 the big 'children's snow party' take place at the Brumsiland in Gosau. Ski bumble-bee Brumsi invites all children and their parents for the big kids snow party with funny game stations, free children punch, Live-DJ, tombola and BRUMSI ski race.
In Brumsiland, little skiing fans can run riot in the snow with Brumsi the skiing bumble-bee at the game stations and the big BRUMSI children's ski race and prove their skills on the snow.
Current weather view
Hikers and winter sports enthusiasts take note: Here you always get an actual live picture of the weather situation in Dachstein West hiking and skiing area in Gosau. With our webcam on the Zwieselalm you are always close to the action!
more...
Beside many fun and action all participants can also win great prizes at the tombola and alls kids get a free children's punch throughout the day at the snow bar. Best entertainment provides a live DJ under the slogan of the ski region 'fun pure - on and off the piste.'.
Event participation is completely free and the conveyor can be used free of charge throughout the day. The fun program with lots of novelties and exciting action guarantees plenty of fun in the snow for all skiing fans!
Enjoy a gentle tour
The winter in the UNESCO World Heritage region of Hallstatt Dachstein Salzkammergut has many facets - also a very tranquil one. As a nature lover, you can enjoy the snowy winter landscape around Lake Hallstatt and Gosau Valley at its most romantic. Many prepared winter hiking trails invite you to relax, marvel and enjoy the snow-covered landscape. The smooth, soft crunching of the snow, the wintry silence and the magnificent winter scenery all have magical power. Numerous winter trails are even located right on the doorstep of your hosts and together with the thermal spa offerings they make a perfect combination for a great winter vacation around Lake Hallstatt. See you in Austria!
Information at a glance
Your contact to the Ski region of Dachstein West in Gosau in the UNESCO World Heritage region of Hallstatt Dachstein Salzkammergut
Dachstein Tourismus AG Gosauer Bergbahnen::
4824 Gosau
Austria
Phone: +43 (6136) 8854
E-Mail: info@dachstein.at
Our advice: Conveniently download prices, opening times and other information for your winter holiday in the Ski region Dachstein West in Gosau, as a PDF on your tablet or smartphone. So you are always well informed and have all important information at hand.
Rates & Family rates Winter season 2015/2016
Panorama Skiregion Dachstein West in Gosau
Free Internet access: Wi-Fi hotspots in all stations of the Hornspitzbahn in Gosau and in the mountain station of the Zwieselalm cable car make it possible. Stay up to date in the UNESCO World Heritage region of Hallstatt Dachstein Salzkammergut !
Winter season 2015 / 2016 in the Ski region of Dachstein West in Gosau/Austria:
Open from Sat. 4th of December 2015 right through to 3th of April 2016