Hike with musical entertainment to the Zwieselalm and the huts
Date:
Location: Zwieselalm, 4824 Gosau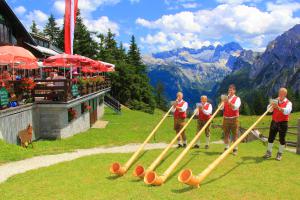 Sonnenalm, Breiningalm, Zwieselalm, Gablonzerhütte and Rottenhofhütte.We start with a folk music brunch at the hut "Gablonzerhütte", moderated by Peter Gillesberger. High-profile and well-known folk music groups play for hikers but also for the radio brunch "Wann i a Musi hör"!
On this day special treats waiting in each cottage! And to have enough time for the musical and culinary delights there is a special cable car, which starts at 7 pm.
Where Hiking Enthusiasts and Sunbathers Meet
The Zwieselalm in Gosau is one of the most beautiful hiking areas in the UNESCO World Heritage Region of Hallstatt Dachstein Salzkammergut. Extensive hiking routes lead over alpine meadows and through shady mountain forests where one can spend hours of enjoyment or relish in short hikes from one alpine lodge to the next. Whether you're stopping in for a pleasant snack at the Gablonzer lodge, a thirst quencher at the Zwieselalm lodge or a relaxing sun bath at the Sonnenalm, the family-friendly hosts, pure mountain landscapes and impressive views of the picturesque Gosau Lake promise an unforgettable experience in the Lake Hallstatt and Gosau Valley region. We hope you enjoy your hiking holiday in Austria!
Tag Webcam
Current weather view
Hikers and winter sports enthusiasts take note: Here you always get an actual live picture of the weather situation in Dachstein West hiking and skiing area in Gosau. With our webcam on the Zwieselalm you are always close to the action!
more...
Rustic! Incomparable! Simply Irresistible!
Simply get away from the hustle and bustle, surrounded by nature, cowbells ringing instead of your smartphone…. Holidays up on an Alpine pasture, or in one of the many mountain huts, are becoming increasingly popular. But it is not always easy to find the "right" Alpine pasture or mountain hut. Therefore, we have compiled the most beautiful "Mountain service stations" for you, with stunning panoramic pictures and the most important information for all "newcomers" and World Heritage hikers. As it is usual in the Simonyhütte, the Adamekhütte or Hütteneckalm in Bad Goisern to greet people informally with a "Du" rather that the formal "Sie", as we say here in the UNESCO World Heritage region of Hallstatt Dachstein Salzkammergut…. "Grias di"!
More time to enjoy!
To save you unnecessary searching on various websites, we have summarised all relevant information about this tour for you below: contact details, opening times, travel times of cable cars, links to public transport and much more. In this way, you get all the information at a glance and have more time to enjoy the breathtaking mountains of the Salzkammergut.
Informationen auf einen Blick
Contact:to the cable car station in Gosau
Dachstein Tourismus AG Gosauer Bergbahnen
4824 Gosau 70
Austria
Phone:

+43 (0) 50 140


E-Mail:gosau@dachstein.at

Open from 7th of May to 30th of October 2016. Futher information in the middle of December 2015.
Saving Tip: Salzkammergut Gipfelticket (Summit ticket) - From now, you can reach the most popular mountain peaks in the area, with a single discount card. Throughout the summer, the discounted ticket is valid for the most beautiful peaks and views of the Salzkammergut. Additional Information ...
Prices & opening hour for 2017 comming soon....