Traditional Festival "Almabtrieb" in Gosau
Date:
Location: Plankensteinalm, 4824 Gosau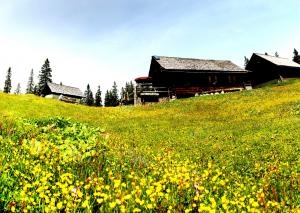 Summer is over and so we decorate the cows and calves in traditional garlands and drive them down to the valley. After the summer we drive the cattle home on 21st September. This will be a joyful celebration for local and guests.
Family Holiday in Gosau
Nestled among the majestic Dachstein, the imposing peaks of the Gosaukamm, the Kalmberg and Plassen lies the Gosau Valley at an elevation of approximately 730 metres above sea level. The romantic Gosau Lake, the hiking area of the Zwieselalm and the Löckermoss bog are considered alongside the comfortable pick-up train and the prehistoric forest park as absolute highlights for a family holiday in Gosau. Rustic mountain huts and gentle mountain meadows stir the souls of every hiking enthusiast. Over 65 kilometres of ski track cause cross-country skiing fans' hearts to beat faster. With 84 kilometres of slopes and 37 modern lifts, both beginning and veteran downhill skiers can find ideal conditions in the ski region of Dachstein West. Romantic horse-drawn sleigh rides, experience-filled snowshoe hikes, adventuresome diving excursions, a plethora of tourism sites throughout the Gosau Valley and a wide selection of free-time activities complete the diverse package of holiday possibilities for both summer and winter. We hope to see you on holiday in Gosau!
Information at a glance
With the "Gosauer Bummelzug", the land train in Gosau, you have the
possibility to go up to the mountain pasture stressless. Starts is at
the toursit info at 9:00 a.m.
Registration at the tourist.
Tourist Office Gosau
Ferienregion Dachstein Salzkammergut
Tourismusverband Inneres Salzkammergut Geschäftsstelle Gosau
Nr. 547
4824 Gosau, Austria
Phone: +43 (0) 5 95095 20
Fax: +43 (0) 6136 / 8255
E-Mail: gosau@dachstein-salzkammergut.at 
More Information on www.gosautal.net

Opening times
Until 17th of April: Mon - Fri 8.00 - 17.00 hrs,  Sat/Sun/public holiday  9.00 to 15.00 hrs
18th of April - June: Mon - Fri 8.00 - 17.00 hrs, Sat.- Son. and public holiday closed
July - October: Mo-Fr 8.00-18.00 hrs, Sat/Sun/public holiday 8.00-13.00 hrs
November - December: Mo-Fr 8.00-17.00 hrs