Christmas dinner in the Lake Side Hotel
Date: Sun, Dec. 24, 2017
Location: Seehotel Grüner Baum, Marktplatz 104 4830 Hallstatt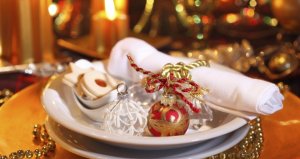 Culinary festive season
Experience the culinary variety of the UNESCO World Heritage region of Hallstatt Dachstein Salzkammergut - especially during the festive season! The Lake Side Hotel "Grüner Baum" on the romantic market place and Lake Hallstatt always come up with something special to spoil their guests with extraordinary menus and creations. Especially during this time of the year, your culinary host awaits you with exquisite menus and culinary highlights. You'll be spoilt with a lovingly and creatively composed festive menu. Treat yourself and your family or friends to an unforgettable festive season and feast your heart out.
Christmas Menu at a glance
Terrine of salmon and smoked trout, wild herbs salad, wasabi and beetroot cream
17,90 Euro
Smoked veal coated, truffled potatoe chips, compote of wild berry
17,90 Euro
Gratiné goat cheese honey, walnuts, spinach of strawberry
14,90 Euro
Fish consummé with crayfish, zuchini
9,50 Euro
Cream soup of two colored peppers, horse radish cream
7,50 Euro
Poached filet of char, saffron rice, buttered carrots
25,90 Euro
Filet of roasted beef, peppersauce, mashed sweet potatoes, mixed grilled vegetables
32,90 Euro
Pointed pepper filled with couscous and ragout of cocktail tomatoes
22,50 Euro
Sorbet of blood orange
7,50 Euro
Apple lasagne, ice of rum and cinnamon, mint cream
8.90 Euro
Fried coconut ice, mango cream
7,90 Euro
Dinner is served - a taste of Austria
"It is well known that eating and drinking sustains both body and soul". People within the UNESCO World Heritage region of Hallstatt Dachstein Salzkammergut stay true to this old saying. Sometimes rustic, sometimes modern, but always authentic – that is the cuisine within the Salzkammergut. This includes traditional meat dishes as well as heavenly sweet pastries and, typical for the lake region of the Salzkammergut - exquisite fish specialties. Connoisseurs can also enjoy an incomparable mix of culture, history and regional delicacies at numerous events between mountains and lakes. Let yourself be pampered; In the summer after a long mountain or bike tour. In winter, after an unforgettable day on the slopes or simply by a romantic dinner during your holiday in the Salzkammergut. Let yourself be inspired and take a look at our culinary hosts within the Dachstein Salzkammergut holiday region. We wish " Guten Appetit".
Information at a glance
Seehotel Grüner Baum
Grüner Baum


Marktplatz 104




4830

Hallstatt
Austria
Phone: +43 (0) 6134 / 8263
Fax: +43 (0) 6134 / 8263-44
E-Mail: contact@gruenerbaum.cc
Additional Dates for this Event