High-percentage and handicraft in Hallstatt
Date: Sat, Dec. 2, 2017
Time: 09:00 — 18:00
Location: Schnaps & Holz im Badergraben, Wolfengasse 67 1830 Hallstatt
Info: Open daily from 2nd December through until 23rd December 2017 from 9:00 until 18:00!
Handmade holiday memories
Fancy unusual gift ideas and cool souvenirs? Then you should pay a visit to the "Advent in Hallstatt" in the so-called "Badergraben". The small alley, with its three archways, always provides Hallstatt visitors with little surprises. Right at the beginning of the alley - just after the World Heritage Museum - lies the small and fine liquor store of Johannes Janu. Here Salzkammergut visitors will not only find high-percentage pleasures, but also down-to-earth craftsmanship from Hallstatt.
Beautiful and fiery
This Advent, the Hallstatt shop owner will surprise you with handmade nutcrackers and Swiss pine bowls. In addition, there are numerous "throat cleaners" such as Zirben schnapps (distilled Swiss pine cones) and other delicious home-brewed spirits. Not to be missed!
Free parking for Christmas market
Hallstatt have a sweetener for all motorists planning to your visit to the Christmas market on the public holiday on 8th December 2017; free parking in both parking lots P1 (at the petrol station in the direction Obertraun) and P2 (at the valley station of the funicular to the salt mountain). This will save you having to search for small change and have more time for a romantic stroll through the Christmassy Hallstatt. We wish you a Merry Christmas!
Events
Date: Sat, Dec. 2, 2017 , 09:00 — 18:00
Ort:  Dachsteinsport Janu, Seestraße 50 4830 Hallstatt
A very special piece of folk art in the rooms of the archaeological excavations under the Janu sports shop in Hallstatt.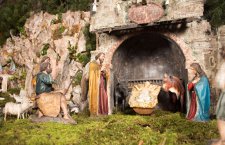 Enjoy a gentle tour
The winter in the UNESCO World Heritage region of Hallstatt Dachstein Salzkammergut has many facets - also a very tranquil one. As a nature lover, you can enjoy the snowy winter landscape around Lake Hallstatt and Gosau Valley at its most romantic. Many prepared winter hiking trails invite you to relax, marvel and enjoy the snow-covered landscape. The smooth, soft crunching of the snow, the wintry silence and the magnificent winter scenery all have magical power. Numerous winter trails are even located right on the doorstep of your hosts and together with the thermal spa offerings they make a perfect combination for a great winter vacation around Lake Hallstatt. See you in Austria!
Information at a glance
Open daily from 2nd December through until 23rd December 2017 from 9:00 until 18:00!
Contact
Schnaps & Holz im Badergraben
Contact person: Johannes Janu
Wolfengassen 67
4830 Hallstatt
Austria
Phone: +43 (0) 6134 8298
Das könnte Sie interessieren:
Alle Veranstaltungen & Termine vom "Advent in Hallstatt" auf einen Blick finden sie hier... 
Additional Dates for this Event