Lake side apartment "Glück am See"
Lake side apartment "Glück am See"

Familie Silke Seemann
Seelände 30

,

1830

Hallstatt
Hallstatt ist Natur- und Kulturerbe und einer der schönsten Seenplätze Österreichs. Nur wenige Schritte vom Hallstätter See entfernt finden Sie mit "Glück am See" im Bergmeisterhaus
Hallstatt is one of the most beautiful places in Austria, well known for it's unique history and stunning nature. The Bergmeisterhaus "Glück am See" is located only a few steps from the lake and inspires for relaxing and lucky holidays in the nature.
The Bergmeisterhaus "Glück am See" is located just a few steps from the mystic lake Hallstatt.
Two wonderful equipped apartments are a wonderful starting point for long walks in the nearby mountains or woods or for mountainbike tours. The lake invites for a refreshing swim afterwards or just to relax and read a nice book.
The cable car to the famous saltmine can be reached with a few steps.
Have a wonderful time!
More from this host
The Family Hideaway is situated in the middle of a very quiet neighborhood called Echerntal.
It is surrounded by a lovely garden and feels like "a real Home away from Home" - just like our award-winning pioneer - Hallstatt Hideaway.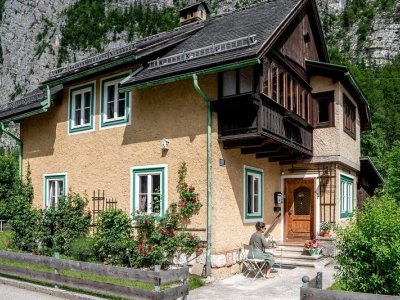 Right in the middle of Austria, in the heart of the Salzkammergut region, in the city centre of Hallstatt but also an oasis of calm and tranquility - that is the Hallstatt Hideaway!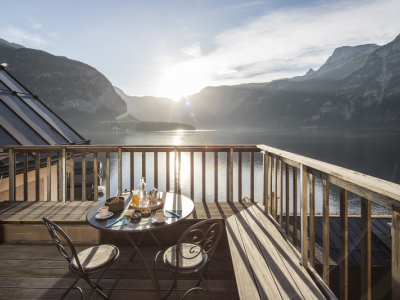 Facilities
Location
Distance to airport (in km): 1.14
By the lake
Distance to the beach (in km): 0.5
Service
No board included
Diners Club
Pets on request
American Express
Breakfast on request
Breakfast service
VISA
Breakfast
Pets permitted
Capacities
Number of double rooms: 3
Number of apartments: 2
Number of beds: 3
Equipment
Comfortable ambience
Baby cot
Non-smoking host
Familial ambience
Modern ambience
Basic ambience
Wifi
Themes
Families
Active and sport
Hiking/nature
Mountains
Sports
Bathing/beach/ocean