Obertrauner Hof
Obertrauner Hof
Obertraun 90

,

4831

Obertraun
The Obertrauner Hof offers 12 large en-suite bedrooms, which are spacious and comfortably furnished.
Large balconies in many of the rooms provide stunning views across the village to the Dachstein Massif.
Holiday in the heart of Obertraun on Lake Hallstatt
The Obertrauner Hof offers 12 large en-suite bedrooms, which are spacious and comfortably furnished; all have en-suite shower & WC. Large balconies in many of the rooms provide stunning views across the village to the Dachstein Massif. Large windows and balcony doors let the sun shine into our rooms, giving them a welcoming, light and airy feel.  All bed linen and towels are provided and rooms are cleaned daily. 6 rooms are suitable for families offering 3 full size beds.
The Obertrauner Hof truly offers the perfect base for you to recharge.
Comfortably furnished communal lounge areas and a peaceful garden provide the perfect opportunity to compare notes with fellow travellers or offer a quiet retreat after an exciting day outdoors. There is also a communal TV and coffee & tea making facilities, allowing you to relax after your day. Our buffet breakfast gives the perfect start to the day, offering a selection of breads, meats, cheeses, fruit preserves, cereals, toast, coffee, tea, juice.
Guests also a have access to a secure ski, boot and bicycle room. We also provide free car parking. The Obertrauner Hof comes complete with a generously sized Restaurant & Bar. The "Glanköwirt" offers an excellent standard of traditional cuisine at competitive rates.
Holiday Planning
Whether it is skiing in the winter or walking in the summer, the local knowledge of our team guarantees the perfect holiday experience. We are happy to assist with every aspect of your holiday planning to ensure that you make the most of your holiday budget.
More listings by this host:
Spacious, comfortable and traditionally furnished apartments located in the picturesque village of Gosau with direct views of the Gosaukam. A photographers paradise!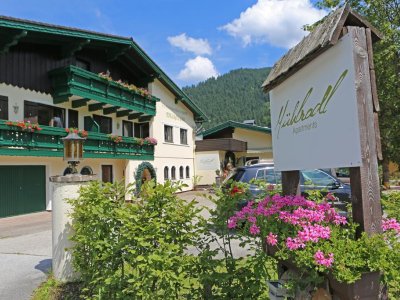 Welcome to the new website of the Hornspitz Family Apartments, a perfect place to stay for families, sportsmen and visitors in Gosau, to enjoy comfort and ambience of homelike apartments.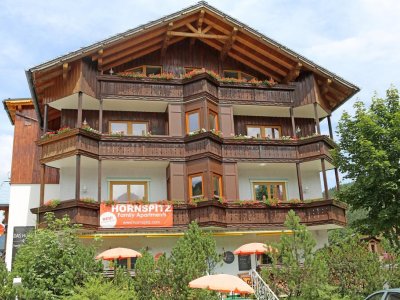 Facilities
Location
Distance to next ski lift (in km): 5
Rural area
Distance to the old town (in km):
Distance to the beach (in km): 2
Distance to next public transport station (in km): 1
Quite environment
Distance to the lake (in km): 2
Distance to next train station (in km): 1
Distance to city centre (in km):
In the mountains
Distance to the forest (in km)
Service
Shuttle/ transfer service
Buffet breakfast
Pets on request
Airport shuttle/ transfer service
Ski cellar
Parking area
Capacities
Number of beds: 49
Groups 31-50 persons
Equipment
Familial ambience
Baby cot
Wifi
Internet usage possible
Breakfast room
Room with Balcony
Foyer/lobby
Basic ambience
Lounge area
Leisure/Sport
Boat-trips
Ski school
Boat hire
Hiking trails
Bike rental
Ski slope
Language
German
Russian
English
Hungarian
Themes
Ski and winter sports
Hotel for cyclists
Hiking/nature
Mountains
Families
Sports
Lowcost/budget
Active and sport
Prices
Single room: From € 35,00 To € 45,00 (per person/Night)
Doubleroom: From € 31,00 To € 41,00 (per person/Night)
Junior suite: From € 34,50 To € 44,50 (per person/Night)
Multiple bedroom: From € 30,00 To € 36,00 (per person/Night)
Obertraun – A world of limitless experiences
There's much to discover and experience in Obertraun on the southern shore of the idyllic Lake Hallstatt: hiking routes for all types, romantic spots, sport challenges, and winter wonderlands. Whether it's through water fun on the lake, relaxing at the Koppenlacke, or a bike tour along Lake Hallstatt, boredom is never the case in Obertraun. In terms of experience-rich outings, Obertraun offers the nearby historical town of Hallstatt with its Salzwelten salt mine, numerous hiking paths and visits to the fascinating ice caves within the Dachstein Mountain or the impressive "5fingers" viewing platform on the Krippenstein. In winter, snow-hungry visitors can also find their hearts' desires: freeriding, snowboarding, ski touring, and snowshoeing in the Freesports Arena Dachstein Krippenstein. From beginners to professionals, the Krippenstein has something for everyone. In both summer and winter, cosy mountain huts, such as the Lodge on the Krippenstein or the Schilcherhaus on the Gjaidalm, provide a relaxing finale to exciting hiking and thrilling skiing days. Boredom is yesterday's news – today it's all about Obertraun on Lake Hallstatt!
Share the excitement
Give your friends, relatives or acquaintances a little treat and share this page on Facebook, Twitter or Google Plus. Bacause a holiday on Lake Hallstatt is there for everyone!