Evening tours of the Salzwelten Salt Mines
Location:
Altaussee salt mine

,

Lichtersberg 25

,

8992

Altaussee
January to October evening tours every Wednesday 5 p.m.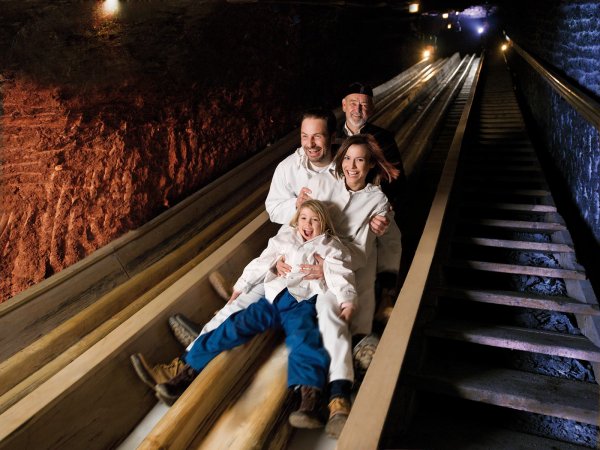 Deep inside the Altausee salt mine, in the Styrian Salzkammergut, is a world waiting to be explored. A world that reflects the diversity of the events surrounding salt, its history and its importance in a fascinating way.
An evening in the salt mine
Every Wednesday, from January to October at 5 p.m., you have the opportunity to take a look behind the scenes of Austria's largest active salt mining site during an evening guided tour in numerous languages. Embark on a mysterious journey through Earth's history. Through imaginative and dramatic presentations and exciting information, during the course of the time travel, you will not only learn but experience with all your senses.
Don't forget to register!
It is important to register for the shuttle bus up to 14:00 hrs. Wednesday afternoon. This can be done at the Salzwelten salt mines or at the Hallstatt Tourist Information Office. Your hosts will be happy to help further. And away you go: A family experience whatever time of year and is especially recommended during the winter months is. As the miners' saying goes "Glück Auf!"
Weitere Veranstaltungen in den Salzwelten Altaussee
Your accommodation for this event