The old Salt Mine in Altaussee
Date: Thu, Jan. 4, 2018
Time: 19:00
Location: Salzwelten Altaussee, Lichtersberg 25, 8992 Altaussee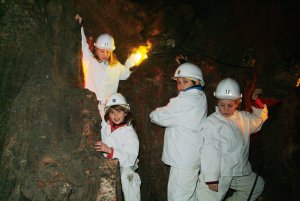 Deep inside the Altausee salt mine, in the Styrian Salzkammergut, 20 minutes away from Hallstatt, is a world waiting to be explored. A world that reflects the diversity of the events surrounding salt, its history and its importance in a fascinating way.
Seemingly endlessly long tunnels lead into the depths, pure rock salt shimmers in impressive colours on the walls and is seen in repeatedly new forms. Amazed visitors at the largest active salt mine in Austria are led past the "Chamber of Inner Light" and the "Chapel of St Barbara" before sliding down into the heart of the mountain on two miners' slides: directly to the subterranean salt lake, which with its unique musical- and visual presentation is an unforgettable experience for the entire family. The diversity of the Altaussee Salt Mine fascinates young and old with a stimulating mixture of fun, excitement, wonder and knowledge. The Altaussee Salt Mine is now also open in the winter months for young (from the age of four) and old visitors. We strongly recommend visitors to wear stout footwear and warm clothing.
Your accommodation for this event
Information at a glance
Opening times: Christmas holiday 
From 25th of December 2017 to 6th of January 2018 daly guided tours 17:00 & 19:00 hrs. New Years Eve (31th of December 2017) ckosed.
Contact
Salinen Tourismus GmbH
Salzbergstraße 21
A-4830 Hallstatt
Phone.: +43 (0) 6132 200 24 00
Registration for the guding tours in the evening with the bus shuttle: +43 (0) 6134 82 08 (Tourist office Hallstatt)
Fax: +43 (0) 6132 200 44 00
E-Mail: info@salzwelten.at
Homepage: www.salzwelten.at
eShop: www.salzwelten-shop.at
Our advice: Conveniently download prices, opening times and other information for your holiday in the UNESCO World Heritage region of Hallstatt Dachstein Salzkammergut, as a PDF on your tablet or smartphone. So you are always well informed and have all important information at hand.
2017: Tariffs and Opening hours (PDF 600kB)
Additional Dates for this Event