Guided alpine tour every Tuesday
Location:
Bad Goisern

,

4822

Bad Goisern
Every Thuesday. From May to the end of October 2020. Guided biking tours through the UNESCO Wolrd Heritage region of Hallstatt Dachstein Salzkammergut. For organisational reasons, please register for this event.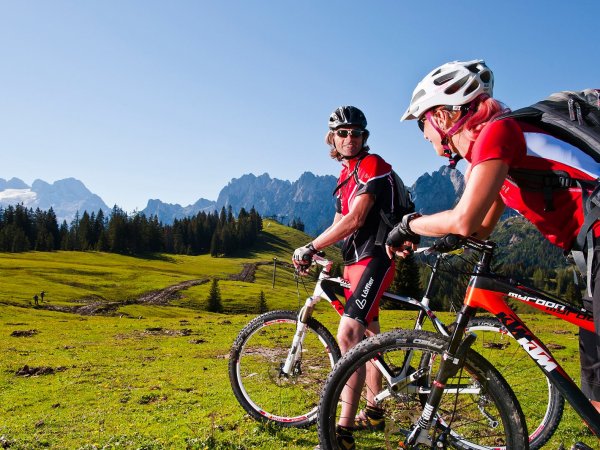 Important information - you should read!
Dear readers, please note that due to the current situation - "Keyword Coronavirus / Covid-19" – events scheduled between spring and autumn 2020 are susceptible to postponements or cancellations. Further information on each event can be found at the bottom of this page under "Information at a glance". If you want to be on the safe side, contact the organiser directly. Current status: all events in Austria up to the end of June 2020 are cancelled. Thank you for your understanding. Stay healthy!
Specific Tours
Speed, adrenaline, sports action or just enjoy unforgettable views of the overwhelming natural scenery of the UNESCO World Heritage region of Hallstatt Dachstein Salzkammergut - this is mountain biking around Lake Hallstatt and Gosau Valley. The unique combination of majestic mountain landscape with green pastures, rustic huts and crystal clear lakes make for a variety of mountain biking tours around the region of Lake Hallstatt. Accordingly, the infrastructure for mountain biking is well developed here: Start your mountain bike tour from the doorstep of your holiday home!
Alpine tour every Tuesday
​Mountains, bikes and lakes are nothing less than the first three highlights on a mountain bike tour in the Salzkammergut. Our guides will show you the best views of the mountains of the Salzkammergut. They will take you on individual mountain bike tours within the official route network which you will not find in any map.

More guided tours at a glance