Gaudi Family Games in Gosau
Date:
Location: Talstation Hornspitzlift Gosau, Gosau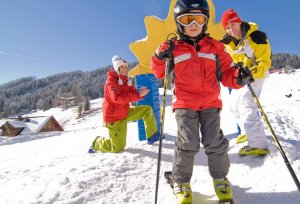 Olympics meets quiz show
Every Wednesday, from 15:15 hrs. the Gosau Ski School invites you to a great family afternoon! There are plenty of fun games in the snow at the Family Fun Games by the Gosauer Hornspitzlift: Penalty shootout, a hint of the Carnival with a balloon slalom and a little bit of a child's birthday party with ring throwing. And at the end, whoever can answer the most questions correctly, in the big quiz about the Dachstein West ski area, will be the overall winner. So dear families, it's off to the Family Fun Games in Gosau!
Current weather view
Hikers and winter sports enthusiasts take note: Here you always get an actual live picture of the weather situation in Dachstein West hiking and skiing area in Gosau. With our webcam on the Zwieselalm you are always close to the action!
more...
Your accommodation for this event
Information at a glance
Contact
Ski Snow Fun Skischule Gosau
Contact person: Rudolf Stricker
4824 Gosau 701
Austria
Phone: +43 (0) 6136 / 8559
E-Mail: ski@skigosau.at
Homepage: www.skigosau.at

Contact
Your contact to the Ski region of Dachstein West in Gosau in the UNESCO World Heritage region of Hallstatt Dachstein Salzkammergut
Dachstein Tourismus AG Gosauer Bergbahnen::
4824 Gosau
Austria
Phone: +43 (6136) 8854
E-Mail: info@dachstein.at