Guided Historic Hike in Gosau
Date:

Jul. 4 - Aug. 29, 2018


This event has already taken place
Location:
Evangelische Kirche Gosau

,

Gosau 179

,

4824

Gosau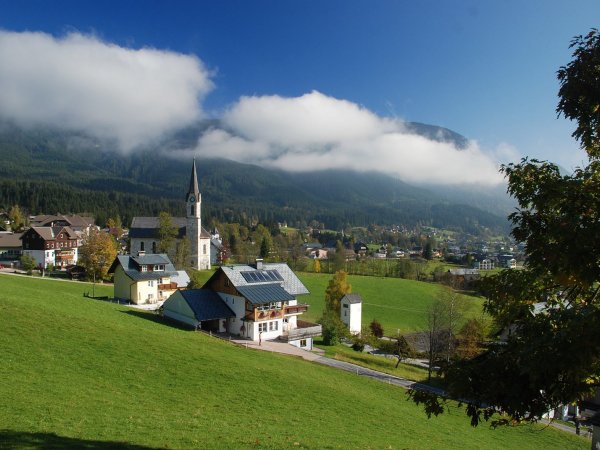 Important notice - please read!
Dear readers.
As of 3rd November 2020, all events throughout Austria have been canceled as security measures against the global Covid 19 pandemic. Whilst this is initially until 7th of January 2021, how it will continue after that is still unclear. Your editorial team.
History tour
Beeing part at the historic hiking tour throught the "Kirchenviertel" and hear a lot of intresting historical stories of Gosau and the Reformation Time.
To celebrate 500 years of Reformation, this year for the first time there is a history tour every Wednesday in July and August with lots of interesting stories about the Reformation and Gosau. The tour starts at 19:00 hrs. by the Evangelical church. Then a walk towards the Catholic chuch and after that via the steps up to the Kalvarienberg chapel. Later you can enjoy the wonderful tones of the Gosau brass band, which starts at 8.00 pm in front of the chapel, from where the whole church quarter is transformed by the magical melodies.


 
The Evengelical belief has been an important topic in the Inner Salzkammergut for many years. It had already begun spreading through the region in around 1525, encouraged by the salt trade. Despite counter-reformation and expulsion, "Secret Protestantism" lasted up until the tolerance reform. Up until the second half of the 16th century, almost all of the population was Evangelical. After the signing of the tolerance reform by Emperor Joseph II on the 13th October 1781, Brigitta Wallner became the first Gosauer to openly declare her Evangelical belief. A further 1085 people then followed suit. The building of the Evangelical church in Gosau started in 1860. Many of the building stones for it came from the Gosau grindstone quarry, where even today stones are still being mined. It is possible to visit the quarry.
Your accommodation for this event