Guided Snowshoe hike "Bibereck"
Date: Tue, Mar. 20, 2018
Time: 09:45
Location: Talstation Hornspitzlift Gosau, Gosau
Info: Winter hike with Betty: Every Wednesday during your holiday in Gosau.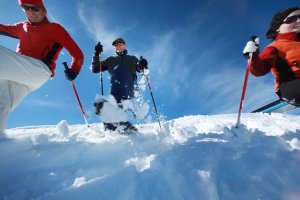 Für alle, die es mal ausprobieren möchten
Sie sind im Winterurlaub in der UNESCO Welterberegion Hallstatt Dachstein Salzkammergut und standen bisher noch nie auf Schneeschuhen? Und jetzt haben Sie Lust auf diesen gemütlichen Wintersport? Dann möchten wir Ihnen die leichte Schneeschuhwanderung mit der beliebten Gosauer Wanderführerin Betty ans Herz legen: Mit der Hornspitzbahn geht es auf die Mittelstation, von dort aus geht's weiter in Richtung Bibereck – Abfahrt wieder mit der Seilbahn ins Gosautal. Ob Anfänger, Fortgeschrittene oder Familien – Wanderführerin Betty freut sich auf Ihre Anmeldung. Und wir sehen uns beim Schneeeschuhwandern in Gosau! 
Your accommodation for this event
Information at a glance
Guided Snowshoe hike "Bibereck"
Meeting point: 9:45 at the Hornspitz lift in Gosau
Brief information: Easy snow show hike for the whole family. Ascent to the middle station, from there you continue towards Bibereck - descent again with the cable car into the Gosau valley.
Walking time: Approximately 2 hours
Price per person including lift ticket and equipment:
Adults: 45.- Euro
Children: 8-14 years 22.-Euro
If you already have a valid ski pass or a snowshoe equipment (shoes & poles) - or both - then the total price will be reduced accordingly.
Please register with Betty Jehle latest until 15:00 the day before
Attention!
For organisational reasons, we ask you to please register with Betty. The beloved Gosau hiking guide takes registration for this specific tour up until 18:00 one day prior to the tour start. Please refer to the following contact information . . .
Contact Betty Jehle
4824 Gosau 490
Austria
Phone: +43 (0) 650 636 617 7
E-Mail: betty.jehle@gmx.at

Additional Dates for this Event