Guided snowshoe tours in Gosau
Date:
Location: Skischule Gosau, Gosau 701, 4824 Gosau
Info: Every Tuesday from 22nd of December 2015 to Easter 2016. Depending on weather and snow conditions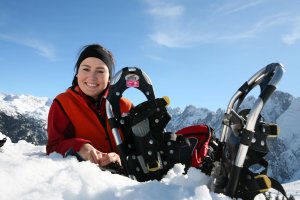 In harmony with the winter wonderland of the Gosau valley. The number of followers of alternative winter sports, away from the ski slopes, continues to grow. The harmony with the nature in winter plays an important role. Enjoying winter in peace, white untracked mountain slopes, working off energy, feeling the warmth of the sun on your skin and thinking about the stop at the traditional mountain hut - all this makes snowshoeing, during a winter holiday in the Salzkammergut, so attractive. Not to mention that you do not have to buy expensive ski passes.
Current weather view
Hikers and winter sports enthusiasts take note: Here you always get an actual live picture of the weather situation in Dachstein West hiking and skiing area in Gosau. With our webcam on the Zwieselalm you are always close to the action!
more...
On a snowshoe hike through Gosau, at the foot of the Dachstein, you will see the most beautiful views which the UNESCO World Heritage region of Hallstatt Dachstein Salzkammergut has to offer. The higher up you go, the better the views. Snowshoe rental and guided tours are available from the Gosau Ski School.
Tours every Tuesday – Do not forget to register!
The guided tours, through the unique winter wonderland of Gosau valley, take place every Tuesday. Please register! Required equipment of your own: Winter clothing (jackets, over trousers, gloves, hat), sturdy mountain boots (waterproof if possible), sunglasses or goggles, backpack, water bottle.
Information at a glance
 Meeting point:
Tuesday at 10:00 hrs at the cable car station Hornspitzlift in Gosau
Guided tours from 22nd of December to Easter 2016 (depending on weather and snow conditions)

·Price:
55.- Euro per person inclusive cable car ticket, snowshoes and shnow sticks

·Route:
Ascent with the Hornspitz chair lift to the middle station. From here we go with the snow shoes towards Klausmoss-Bibereck. Fantastic view of the Dachstein massif.
Contact Betty Jehle
4824 Gosau 490
Austria
Phone: +43 (0) 650 636 617 7
E-Mail: betty.jehle@gmx.at

Your accommodation for this event