Hike with musical entertainment in Gosau
Location:
Zwieselalm

,

4824

Gosau
Handmade down-to-earth music and culinary delicacies - the perfect combination for a relaxing day on the Zwieselalm high above the Gosau Valley. The mountain hut hosts look forward to your visit.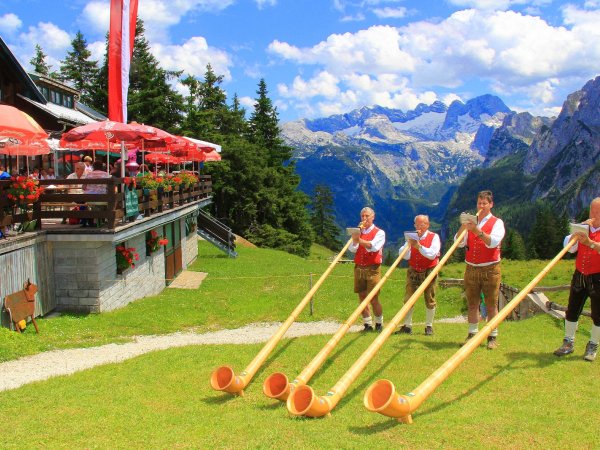 The sound of the Gosau Valley
On 3tth July, the innkeepers at the Zwieselalm lodge will be organising the hearty 'Alm-Musi-Roas' music event! The five participating lodges will be serving up folk music treats and, of course, some delicious regional cuisine. And to ensure there is plenty of time to savour the musical and culinary treats, the Gosaukammbahn cable car will be running until 19:00 hrs..
The 'Alm-Musi-Roas' will kick off at 11.00 a.m. at the Gablonzerhütte and Breininghütte. And to make your mouth water: there will be suckling pig, cheesy pasta, herb pasta, meat parcels, dumplings, hearty food from the grill and much more!
Where Hiking Enthusiasts and Sunbathers Meet
The Zwieselalm in Gosau is one of the most beautiful hiking areas in the UNESCO World Heritage Region of Hallstatt Dachstein Salzkammergut. Extensive hiking routes lead over alpine meadows and through shady mountain forests where one can spend hours of enjoyment or relish in short hikes from one alpine lodge to the next. Whether you're stopping in for a pleasant snack at the Gablonzer lodge, a thirst quencher at the Zwieselalm lodge or a relaxing sun bath at the Sonnenalm, the family-friendly hosts, pure mountain landscapes and impressive views of the picturesque Gosau Lake promise an unforgettable experience in the Lake Hallstatt and Gosau Valley region. We hope you enjoy your hiking holiday in Austria!
Rustic! Incomparable! Simply Irresistible!
Simply get away from the hustle and bustle, surrounded by nature, cowbells ringing instead of your smartphone…. Holidays up on an Alpine pasture, or in one of the many mountain huts, are becoming increasingly popular. But it is not always easy to find the "right" Alpine pasture or mountain hut. Therefore, we have compiled the most beautiful "Mountain service stations" for you, with stunning panoramic pictures and the most important information for all "newcomers" and World Heritage hikers. As it is usual in the Simonyhütte, the Adamekhütte or Hütteneckalm in Bad Goisern to greet people informally with a "Du" rather that the formal "Sie", as we say here in the UNESCO World Heritage region of Hallstatt Dachstein Salzkammergut…. "Grias di"!
More time to enjoy!
To save you unnecessary searching on various websites, we have summarised all relevant information about this tour for you below: contact details, opening times, travel times of cable cars, links to public transport and much more. In this way, you get all the information at a glance and have more time to enjoy the breathtaking mountains of the Salzkammergut.
Your accommodation for this event