Hiking with Betty: 2 nature reserves in one day
Location:
Sports ground Gosau

,

4824

Gosau
Family-friendly day hike with slow train. About 6 hours. With ride to the "Löckernmoss" moor and Plankensteinalm with "Hiking with Betty" in Gosau.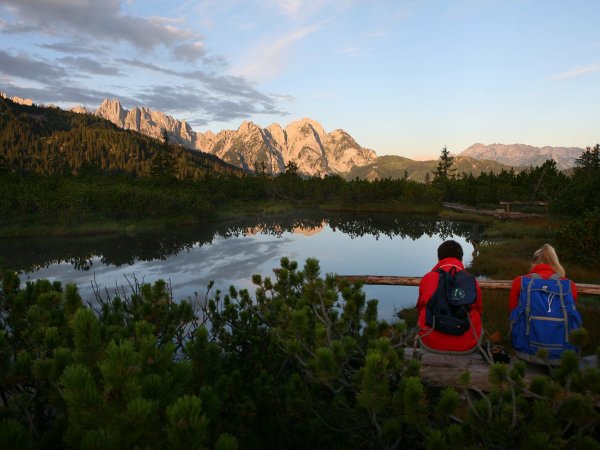 Hiking excursion for the whole family
Up the mountain effortlessly with an old "railroad car". Unwind and enjoy the unique natural spectacle. You can experience this and much more with "Hiking with Betty". On this extended day tour, the popular Gosau hiking guide will take you to two of the most beautiful nature reserves in the Gosau Valley: To start with, we enjoy a comfortable ride with the slow train to the famous Gosau grindstone quarries where, to this day grinding stones are still mined. After a short visit, the path leads us further to one of the most beautiful moors in Europe - the Löckermoos.
It continues
After returning from the most beautiful "Glücksplatz" (place of happiness) in the Salzkammergut, we continue with the slow train to the exciting Plankensteinalm. From here we take a short hike with Betty to "Geißwand" with great views of Hallstatt, Lake Hallstatt and Obertraun. Before we head back down to the Gosau Valley, delicious mountain delicacies await us in the "Leutgebhütte" with the large viewing terrace.
The family-friendly World Heritage hike with Betty in Gosau is an ideal adventure for the whole family. The exciting stories about the "Löckerwurm" and others make the eventful day trip an absolute highlight during your holiday in the UNESCO World Heritage region of Hallstatt Dachstein Salzkammergut. Guaranteed! Register now!
Better register early!
Would you like to participate in one of the "guided hikes" mentioned above? Here are our tips for the perfect hiking pleasure: Sign up in time. If specified, we recommend registration per e-mail. Please include the title of the hike and the date for the "Guided hike". Should your desired hike take place on the weekend or on a public holiday, we recommend that you send your tour registration 3 to 4 days in advance. In the age of smartphones, you will be quickly informed of possible tour cancellations via e-mail! Of course, you can also register via telephone. For more information about registration and contact persons, see below under "information at a glance". Whatever you choose, we wish you a memorable exploration tour while hiking in Austria!
Your accommodation for this event