With the eBike up to the alpine pastures
Date:

May. 2 - Sep. 26, 2019


This event has already taken place
Location:
E-Bike Verleih Nemo-Point

,

Vordertalstraße 12

,

4824

Gosau
Alluringly good eBike tours. Guided cycling tour to the most beautiful alpine pastures and huts in the Gosau Valley. Enjoy cycling to rustic mountain lodges and the most beautiful places in the Gosau Valley.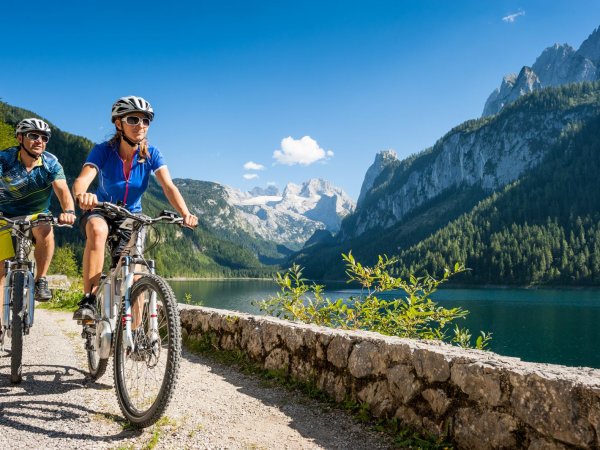 An bikers dream
To be able to experience the mountains whilst biking was once reserved only for the fittest. However with the eBike that has all changed - now you can easily notch up vertical metres and comfortably and effortlessly ride from hut to hut. This now transforms biking in the mountains from a nightmare to a dream!
The two guides Elisabeth Reiter and Helmut Gapp invite you this summer and autumn - not only to succulent alpine pastures, rustic huts and breathtaking distant view views - but also to an uncomplicated and effortless biking pleasure for all ages. Every Thursday morning it's off into the mountains and depending on the weather, the experienced guides will lead you on routes around Gosau. Let yourself be surprised; because there also has to be a little bit of adventure!
Your accommodation for this event
Hotels and accommodation providers in Hallstatt, Bad Goisern, Gosau and Obertraun offer the ideal room or apartment for your holidays, no matter what your tastes. Aside from establishments rated according to the international "star" scale, you will also find around Lake Hallstatt in Austria businesses that have been awarded two to four "edelweiss". The more flowers, the greater comforts you can expect. Whether you eventually find your cozy nest in an elegant 5-star luxury hotel, at comfortable guesthouse, a family-friendly apartment, or on a traditional farm, the choice is always entirely up to you.