With the eBike up to the alpine pastures
Location:
E-Bike Verleih Nemo-Point

,

Vordertalstraße 12

,

4824

Gosau
Alluringly good eBike tours. Guided cycling tour to the most beautiful alpine pastures and huts in the Gosau Valley. Enjoy cycling to rustic mountain lodges and the most beautiful places in the Gosau Valley.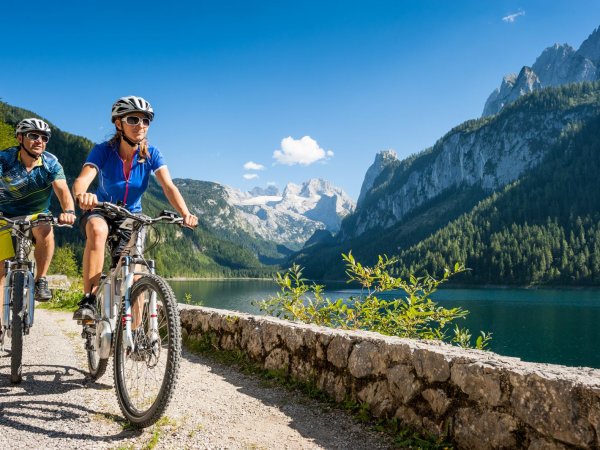 Important information - you should read!
Dear readers, please note that due to the current situation - "Keyword Coronavirus / Covid-19" – events scheduled between spring and autumn 2020 are susceptible to postponements or cancellations. Further information on each event can be found at the bottom of this page under "Information at a glance". If you want to be on the safe side, contact the organiser directly. Current status: all events in Austria up to the end of June 2020 are cancelled. Thank you for your understanding. Stay healthy!
An bikers dream
To be able to experience the mountains whilst biking was once reserved only for the fittest. However with the eBike that has all changed - now you can easily notch up vertical metres and comfortably and effortlessly ride from hut to hut. This now transforms biking in the mountains from a nightmare to a dream!
The two guides Elisabeth Reiter and Helmut Gapp invite you this summer and autumn - not only to succulent alpine pastures, rustic huts and breathtaking distant view views - but also to an uncomplicated and effortless biking pleasure for all ages. Every Monday or Friday morning it's off into the mountains and depending on the weather, the experienced guides will lead you on routes around Gosau. Let yourself be surprised; because there also has to be a little bit of adventure!
Your accommodation for this event