Snowshoe hike "Natural spectacle Löckermoos"
Date: Thu, Mar. 29, 2018
Time: 09:00
Location: Tourismusbüro Gosau, Gosau 547, 4824 Gosau
Info: Five hour tour in upland moor high over the Gosau valley. On the trail of solitude. Winter hike to "Glücksplatz" (place of happiness)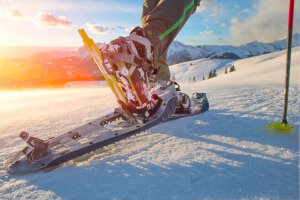 Excursion in wintery upland moor
Where better could you enjoy the winter than in the wonderfully snowy landscape of the Gosau Valley in the heart of Austria. Only here, in the UNESCO World Heritage region of Hallstatt Dachstein Salzkammergut, is the ideal place for peace seeking winter walkers and cool snowshoe hikers. And one of the most beautiful ways to discover the unique nature landscape is an unforgettable guided snowshoe hike with the popular hiking guide Betty from Gosau. This winter, the nature lover brings you to one of the most beautiful places high above the Gosautal: the Löckermoos, located at 1,400 meters above sea level.
Deep relaxation in deep snow
The snow covered upland moor is not only an ideal place for stressful people in summer, but also offers you the ideal opportunity to enjoy a unique view of the snow-capped peaks of the majestic Gosaukamm, absolute silence and breathtaking natural experiences. Simply fantastic! Come and be enchanted!
Sink into unique nature
The "Löckermoos" and the associated Löckersee lake in Gosau is one of Europe's most beautiful raised bogs. The small lake with impressive views of the mighty tines of Gosaukamm lies at an elevation of about 1400 meters and is popular with hikers, both big and small. The word "Löckern" comes from the Gosau dialect and refers to the nature protected mountain pine. When planning your vacation to the UNESCO World Heritage region of Hallstatt Dachstein Salzkammergut, you should not miss a visit to this natural wonder. Numerous "Guided walks" or the ascent with the Gosau slow train make this natural gem one of the most beautiful destinations in the Gosau Valley.
Your accommodation for this event
Information at a glance
Snowshoe hike "Natural spectacle Löckermoos"
Every Thursday from end of December 2017 until end of March 2018
Meeting point: 9:00 at the Hornspitz lift in Gosau
Walking time: circa 5 hours
Category: Medium difficulty hike over 633 meters.
Price: 55.- Euro per person including equipment, snack and refreshments.
If you already have a valid ski pass or a snowshoe equipment (shoes & poles) - or both - then the total price will be reduced accordingly.
Please register with Betty Jehle latest until 15:00 the day before
Attention!
For organisational reasons, we ask you to please register with Betty. The beloved Gosau hiking guide takes registration for this specific tour up until 18:00 one day prior to the tour start. Please refer to the following contact information . . .
Contact Betty Jehle
4824 Gosau 490
Austria
Phone: +43 (0) 650 636 617 7
E-Mail: betty.jehle@gmx.at