Spring Concert of the Brass Band Gosau
Date:
Location: Vitalhotel Gosau, Nr. 713, 4824 Gosau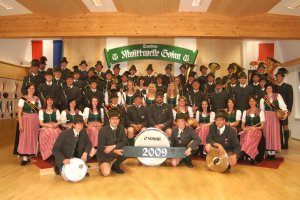 This first concert of the year of the brass band "Trachtenmusikkapelle Gosau" takes place at the Vitalhotel Gosau.
Trachtenmusikkapelle Gosau
Die Trachtenmusikkapelle Gosau mit ihren 45 Mitglieder und nach wie vor ist die Blasmusik ein wichtiger Kulturträger im Ort. Sowohl mit unserem Spiel als auch durch das Tragen unserer althergebrachten Tracht wollen wir die Besonderheit des Gosautales und seiner Bewohner weitertragen. Es ist das Anliegen der Mitglieder der Musikkapelle, zur Erhaltung unseres Kulturgutes beizutragen. Nicht wegzudenken ist die Musikkapelle bei den verschiedensten kirchlichen und weltlichen Veranstaltungen. Durch unser Mitwirken tragen wir sicherlich zur Verschönerung derartiger Feste bei. Weitere Informationen erhalten Sie auf der Homepage der Trachtenmusikkapelle Gosau.
Your accommodation for this event
Information at a glance
Contact
Trachtenmusikkapelle Gosau
Gosau 750
4824 Gosau
Österreich
Phone +43 (0) 6136 8702
E-Mail: huha750@aon.at