Torchlit walk in Gosau
Date: Sun, Dec. 3, 2017
Time: 20:00 — 22:00
Location: Tourismusbüro Gosau, Gosau 547, 4824 Gosau
Info: A very special winter experience. A leisurely evening walk through Gosau to the "Kalvarienberg" in torchlight. Please register in time!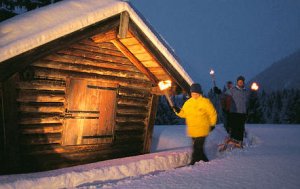 The winter evenings are so beautiful in Gosau
When the snow turns centuries-old farmhouses and romantic little paths, in the tranquil Gosau valley, into a fairy tale winter wonderland and the full moon immerses the world-famous holiday paradise in a magical light, then it's time for an unusual adventure trip!
In the light of the torches, the popular Gosau hiking guide Betty leads you to one of the most beautiful spots in Gosau - the romantic Kalvarienberg church high above the Gosau valley. This unique experience to one of the most beautiful places of happiness in the UNESCO World Heritage region of Hallstatt Dachstein Salzkammergut is a must for the whole family during your winter holiday in Gosau. So register now and enjoy an unforgettable winter evening for all your senses!
Your accommodation for this event
Information at a glance
Tour Information:
Meeting point: 20:00 at the Gosau Tourist Information office
Price: 12.- Euro per person from 14 years
Children from 6 years 7.- Euro
If you already have a valid ski pass or a snowshoe equipment (shoes & poles) - or both - then the total price will be reduced accordingly.
Please register with Betty Jehle latest until 15:00 the day before
Attention!
For organisational reasons, we ask you to please register with Betty. The beloved Gosau hiking guide takes registration for this specific tour up until 18:00 one day prior to the tour start. Please refer to the following contact information . . .
Contact Betty Jehle
4824 Gosau 490
Austria
Phone: +43 (0) 650 636 617 7
E-Mail: betty.jehle@gmx.at

Additional Dates for this Event