Traditional Festival "Almabtrieb" in Gosau
Date:
Location: Plankensteinalm, 4824 Gosau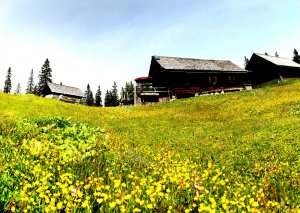 Summer is over and so we decorate the cows and calves in traditional garlands and drive them down to the valley. After the summer we drive the cattle home on 21st September. This will be a joyful celebration for local and guests.
Information at a glance
With the "Gosauer Bummelzug", the land train in Gosau, you have the
possibility to go up to the mountain pasture stressless. Starts is at
the toursit info at 9:00 a.m.
Registration at the tourist.
Contact
Tourist Office Gosau
Ferienregion Dachstein Salzkammergut
Tourismusverband Inneres Salzkammergut Geschäftsstelle Gosau
Nr. 547
4824 Gosau, Austria
Phone: +43 (0) 5 95095 20
Fax: +43 (0) 6136 / 8255
E-Mail: gosau@dachstein-salzkammergut.at 
Homepage: www.gosautal.net

Regular opening times
Tourist Office Gosau
November to April: Mon – Fri 8.30 - 17:00 hrs.
Sat./Sun./Holiday 9.00 - 15.00 hrs
May to October: Mon. – Fri. 8.30 - 18.00 hrs.
Sat, Sun & Holidays 9.00 - 15.00 hrs.


Your accommodation for this event