Guided winter hiking panorama tour in Gosau
Date:
Location: Skiregion Dachstein-West , Gosau
Info: Exery Thursday to end of March 2017!. Please register with Betty Jehle one day in advance.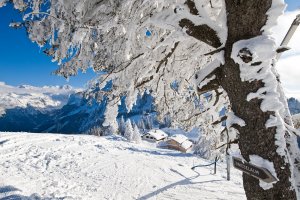 Unforgettable holiday experience
Deep blue skies, trees looking as if they have been wrapped in cotton wool, the snow crunching under your boots - Winter Hiking in Gosau can be so beautiful. Experience the enchanting winter landscape of the Gosau valley with the popular Gosau hiking guide Betty: The cable car brings us quickly and comfortably up the mountain, from where we walk to the middle station of Hornspitzbahn. After refreshments in adventure restaurant, it's back down to the valley with the cable car. The approximately three to four hour panoramic winter hike in Gosau is an experience for young and old. We'll see you along with Betty during a holiday in the snow in the UNESCO World Heritage region of Hallstatt Dachstein Salzkammergut.
Your accommodation for this event
Information at a glance
Meeting point: 10:00 hrs at the valley station of the Panorama Jet in Gosau (Hintertal)
Costs: 35.- Euro per person, including cable car ride
Walking time: about 3 hour
From 4 persons; can also be booked individually
Equipment: good sturdy footwear, hiking poles, snack and drink
Please register with Betty Jehle one day in advance
Contact Betty Jehle
4824 Gosau 490
Austria
Phone: +43 (0) 650 636 617 7
E-Mail: betty.jehle@gmx.at