Daily tours through the Saltmine in Hallstatt
Location:
Salt mine (Salzwelten) Hallstatt

,

Salzbergstraße 1

,

4830

Hallstatt
Feel the magic of bygone days and immerse yourself in a magical realm of glistening salt crystals, mysterious mine tunnels, where history comes alive.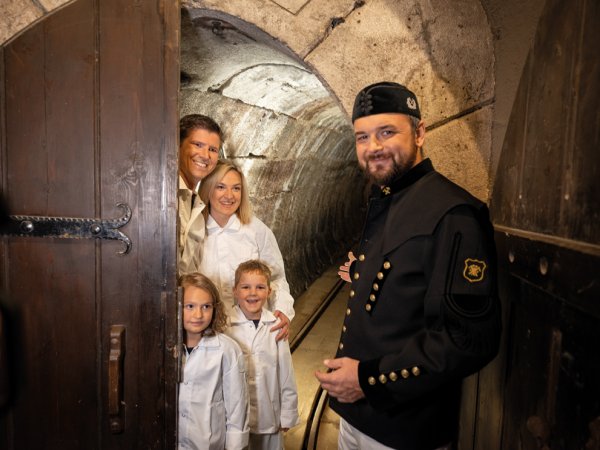 Current Corona Safety Measures
Due to the spread of the SARS-CoV-2 virus, effective immediately and until further notice, visitors to all Salzwelten locations are subject to statutory behavioral and hygiene regulations. In this regard, we have taken this opportunity to provide answers to some of your most important questions. (Subject to change).
What safety regulations must we comply with while we visit the salt mines? 
Compulsory registration and presentation of vaccination certificate / confirmation of a Covid disease(For children up to ten years of age, the test result of the parents or a legal guardian applies, from the age of ten children need their own test result.)
Wear an FFP2 mask
Keep a distance of at least 2 m
Disinfect your hands
Do I have to wear a face mask during the entire visit? 
The mask requirement applies to all indoor areas of all Salzwelten locations and also outdoors if the 2 m distance cannot be maintained.
Who has to wear a face mask?
All of our tour employees as well as guests ages six and up must wear a face mask.
Where can I disinfect my hands? 
Disinfectant dispensers have been installed in the entrance area of all locations for the use of our visitors.
Registration
Here you can download the registration form in advance to print it out yourself. Of course, you can also fill out the form on site.
Test Stations on Holiday
Dear readers, for cable cars and sights around Lake Hallstatt and the Gosau Valley, the rules applies: Vaccinated. Tested. Recovered. We have summarised for you below, the most important testing opportunities in Hallstatt, Bad Goisern, the Gosau Valley, Obertraun and Bad Ischl. Please register online or by phone.
Test Stations for Bad Goisern
Test Station
Bad Goisern Safety Centre
Hofrat-Renner-Weg 2b
4822 Bad Goisern on Lake Hallstatt
Location: Salzkammergut main road roundabout (B145). Opposite the "Hofer" discount store
Opening hours:
Monday and Wednesday
10;00 - 12:30
13:00 - 19:00
All other days
08:00 - 12:30
13:00 - 17:00
No registration necessary
Changes possible!
Testing for free
Bad Goisern on Lake Hallstatt
harmacy in the "Baumhaus"
on the Salzkammergut B145 main road near the Spar supermarket


Test times

Monday - Friday


8:00 - 12:00 hrs.
14:00 p.m. - 18:00 hrs.


Saturday


8:00 - 12:00 hrs.
By appointment only, by phone or via the homepage of the "Baumhaus" pharmacy in Bad Goisern

Test Stations for Gosau
Testen in Hallstatt und Obertraun
Test Stations for Hallstatt and Obertraun
Sonja Gapp
Doctor's Practice Hallstatt / Obertraun
Consultation hours Praxis Hallstatt


Monday


09:00 – 12:00 hrs.


Tuesday


09:00 – 12:00 hrs.


Wednesday


17:00 – 19:00 hrs.


Friday


09:00 – 12:00 hrs.

Subject to changes



Test Stations for Bad Ischl
Important information about the openings on May 19th
3G applies to all tourism businesses: guests have access if they have been vaccinated, tested or recovered.
In order to avoid waiting times, please come to the catering trade already tested.
(No test requirement in retail and when picking up in restaurants because less than 15 minutes)
Upper Austria Tourism: www.oberoesterreich.at/service/aktuelle-information.html
Opening rules WKO: www.sichere-gastfreundschaft.at/#lp-pom-block-2481

Valid tests:
1. Negative PCR test (valid for 3 days)
2. Negative antigen test from test street, pharmacy, etc. (valid for 2 days)
3. Negative controlled self-test (valid for 2 days)
4. School tests for access also apply to children
5. New from 19.5. Recognition of living room tests using a QR code (valid for 1 day): In addition to the five test kits per person from the pharmacy to date, every household will receive a pack of 20 test kits per month including QR codes from May 18th. Take a picture of the QR code and your negative test result. The confirmation will be sent by email or SMS. This is recognized as an entry test for 24 hours.
Vaccination: Proof by means of a vaccination certificate, vaccination card or printout. Valid from the 22nd day after the first vaccination.
Recovery: separation notice (up to 6 months after recovery), antibody test (up to 3 months nG)
Tests for domestic and foreign guests
Please

arrive

with a test in

your

pocket

(for foreign guests a corresponding test certificate is required when crossing the border)

Rapid antigen

tests can be carried out in public test stations (valid for 48 hours; also for foreign guests without an Austrian e-card)

Self-test under supervision in the municipalities

(valid for 48 hours; also for foreign guests without an Austrian e-card)

Self-tests and living room tests

with QR code or official registration (valid for 24 hours; attention: this test does not apply to border crossings) - Austrian guests, including those from other federal states, can bring these tests with them from home and also use them on vacation.

They apply throughout Austria.

Please note:

rapid antigen tests in pharmacies are only available for Austrians with an e-card (valid for 48 hours)

Point of sale tests

are an "emergency solution" for companies to test guests who cannot show a negative COVID-19 test (valid only in this one company)
 6 free test centers
Kongresshaus: daily 8:00 -12: 30 & 13:00 16:45.
Hospital: Mon-Fri: 6-7: 45 a.m. and 4-7: 45 p.m., Sat. + Sun .: 9:00 – 14:45
Rathaus (Pfarrgasse 11, 2nd courtyard): Mon, Wed, Fri from 10:00 to 13:00. and 17:00 to 19:00, registration information will follow.
Spa pharmacy , Tel. 0800-220 330
Marien-Apotheke , Tel. +43 (0) 6132 26 929
Esplanande pharmacy : +43 (0) 06132 234270
Registration for free testing at:
Online https://ooe.oesterreich-testet.at
Telephone: 0800-220 330 ( 7 a.m.-10 p.m.)
You will receive the test result after approx. 25-30 minutes.
Without registration, there may be waiting times.
Please note
Due to the current situation, changes can occur at any time.
We look forward to your visit to the UNESCO World Heritage Region of Hallstatt Dachstein Salzkammergut and wish you a relaxing and restful holiday. See you in the heart of Austria.
Your editorial team.
The world's oldest Salt Mine
Whether as an alternative to hot summer days, an outing for rainy weather, or simply for any reason at all, a fantastic trip through the world's oldest salt mine, the Salzwelten (saltmine) in Hallstatt, is a wonderful excursion for all types of weather and occasions. The tour is a must-see and one of the top tourist attractions during a vacation in Hallstatt.
Since more than 7.000 years the high mountain valley of Hallstatt has determined – due to the vital importance of salt – the destinies, privations and achievements of the local people. Encounter the legends at every turn from the dark past and the glowing power of the "White Gold". Doubtless there are only a few places in this world where one feels the historical significance to such an extent as in this small valley – in fact a whole epoch of mankind became known worldwide as "The Hallstatt Era" (800 until 400 BC).
On the traces of the »Man Preserved in Salt«
Deep in the mountain, in the fascinating world of the underground, where humans have been mining salt since thousands of years has nowadays become a world of undreamt-of impressions, fun and adventure: a miner's slide, a subterranean salt lake and an exciting trip with the mining railroad are the highlights of the Salzwelten Hallstatt.
Daily tours
From the middle of April to the beginning of November, the daily tours of the Hallstatt Salzwelten invite visitors to tread the mine's secretive paths and explore unique treasures of mankind. As you journey through geological history, not only will you gain intriguing knowledge, but all your senses will be engaged in a world of spectacular fantasy and captivating imagination.
Our tip: During your visit to the Salzwelten in Hallstatt, we would greatly recommend a detour to the Hallstatt Sky Walk. This spectacular viewing platform sits high above Hallstatt and offers an idyllic panoramic view of Lake Hallstatt and the breathtaking alpine landscape ranging from the Sarstein to the Plassen mountains.
Please take note that depending on the season, the operating times for the funicular to the Salzberg (salt mountain) and the visiting times for the Salzwelten vary. Exact information can be found under "Information at a glance". We hope that you have an unforgettable experience during your visit to the Salzwelten of Hallstatt.
New Ticket Shop of the Salzwelten
New service!
How to buy "Salzwelten" tickets today!
The "Salzwelten" Salt Mine in Hallstatt offers a very special service for anyone who has other plans. In the new shop, near the bus terminal, visitors can purchase their ticket for the "Salzbergbahn" cable car or a tour of the oldest salt mine in the world simply and easily before they start their tour of Hallstatt. Then there is more time to enjoy a leisurely stroll through the town and long waiting times at the cash register are a thing of the past. See you in the new "Salzwelten" Ticket Shop in the Sparkasse house!
More events of the salt mine
Tue, Jul. 5, 2022 13:00 — 17:00 Salzberg , Hallstatt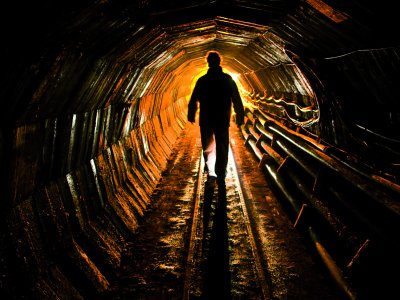 Your accommodation for this event