Dog trekking in Hallstatt
Date:
Location: Echerntal Parkplatz, 4830 Hallstatt
Info: Hiking with dogs in the high mountains. Dog trekking in Hallstatt in September 2017.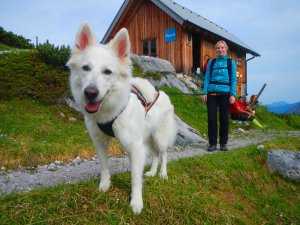 Nature, your dog and you!
Discover the mountains of the UNESCO World Heritage region of Hallstatt Dachstein Salzkammergut with your "best friend"! During the dog trekking, from Friday 1st until Sunday 3rd September 2017, numerous national and international participants will meet for an exciting mountain weekend with their dogs. The three day dog-trekking tour takes the participants to the most beautiful places on the Dachstein plateau: To the Wiesberghaus, the Simonyhütte below the majestic Dachstein, the vast Gjaidalm and the Lodge on the Krippenstein. A sporting challenge for all alpine hikers with their dogs. For more information about the tour, please visit the website of the dog trekking organiser.
Colourful light shows
Tranquillity, as you have never experienced it before. Get up early in the morning, before sunrise and stand in front of the hut and be immediately surrounded by the unspoilt nature of the UNESCO World Heritage region of Hallstatt Dachstein Salzkammergut. Birds sing the first song of the day. Cowbells ringing in the distance, enjoy your morning coffee on the hut bench while tasting the fresh air - that's what people from all over the world find fascinating about a magical overnight stay in a hut in the holiday region of Dachstein Salzkammergut. Relax your eyes and gaze into the distance, forget everyday life, soak up the rays of the sun, feel the wind on your skin and just unwind. So have we filled you with desire? What are your criteria for a hut night?
Your accommodation for this event
Information at a glance
Homepage Dogtrekking
Contact
Dogtrekking & more Sportunion
Verein für Tourensport mit Hund(en)
Josef Mayergasse 7
2340 Mödling
Austria
Phone:  +43 (0) 664/75081293
E-Mail: dt.office@dogtrekking.at