Hiking with Betty: "Echerntal Discovery Tour"
Location:
Echerntal Parkplatz

,

4830

Hallstatt
Guided hike in Hallstatt for the whole family to the beauties of the Echerntal valley: Waldbachstrub waterfall, glacier garden, painter and literary trail and lots more. Family and senior friendly.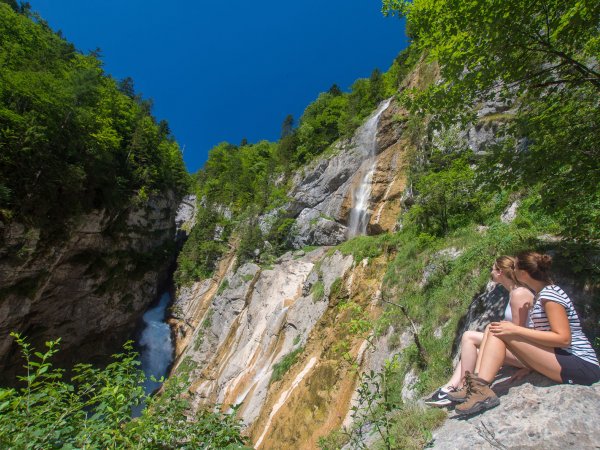 Important notice - please read!
Dear readers.
As of 3rd November 2020, all events throughout Austria have been canceled as security measures against the global Covid 19 pandemic. Whilst this is initially until 7th of January 2021, how it will continue after that is still unclear. Your editorial team.
Hiking with all senses!
Far away from the stream of visitors along the promenade of the fjord-like Lake Hallstatt, there is a place worth discovering: the wild and romantic Echerntal valley with its wild waters, curious stories and numerous natural spectacles. Hiking guide Betty accompanies you from May to October, in almost any weather, to true moments of happiness, unique relics from the Ice Age and picturesque postcard idylls of artists from the 19th century.
On this family-friendly hiking excursion, discover numerous gems along the way and immerse yourself in a very special piece of Hallstatt history. A must see! Come along on tour of discovery.
Note: Please note that this tour is tailored to the condition of the tour participants. The walking times and distances may therefore slightly vary. The tour takes place in almost any weather!
Better register early!
Would you like to participate in one of the "guided hikes" mentioned above? Here are our tips for the perfect hiking pleasure: Sign up in time. If specified, we recommend registration per e-mail. Please include the title of the hike and the date for the "Guided hike". Should your desired hike take place on the weekend or on a public holiday, we recommend that you send your tour registration 3 to 4 days in advance. In the age of smartphones, you will be quickly informed of possible tour cancellations via e-mail! Of course, you can also register via telephone. For more information about registration and contact persons, see below under "information at a glance". Whatever you choose, we wish you a memorable exploration tour while hiking in Austria!
Your accommodation for this event