Sound of Hallstatt 2019: "Sonderkonzert 10 Jahre Heritage Hotel Hallstatt"
Date:

Sat, Aug. 3, 2019


This event has already taken place
Location:
Kultur- und Kongresshaus Hallstatt

,

Seestraße 169

,

4830

Hallstatt
This concert is part of the event series "The Sound of Hallstatt". Also this year, you can expect many musical delights between May and December.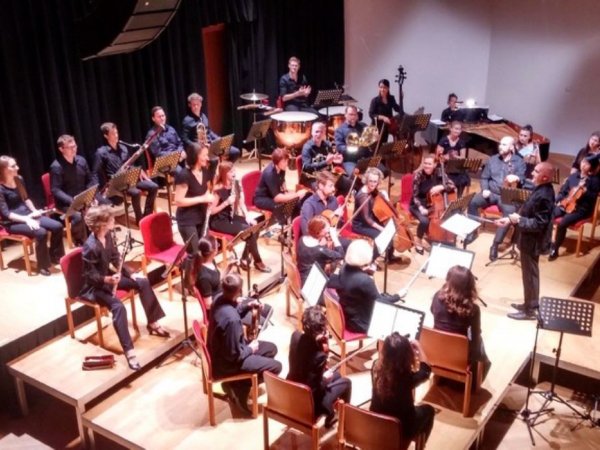 Hotel meets opera
As you know, parties should be celebrated as they come. And this summer there is a reason to celebrate. The Heritage Hotel Hallstatt has been in existence for ten years - and this must be celebrated. The concert series "Sound of Hallstatt" takes this as an opportunity and dedicates this evening to the opera. Look forward to overtures, arias and duets from operas by W. A. Mozart, G. Rossini, G. Bizet, G. Puccini, and G. Verdi. We wish you a pleasurable concert evening!
More about the artists
For all those who would like to know more about the artists of the "Sound of Hallstatt" this evening, we have put together some information about the singers and orchestra below.
Peggy Steiner
Die Sopranistin Peggy Steiner wurde in Dresden geboren. Im Alter von 15 Jahren erhielt sie ihren ersten Gesangsunterricht und wurde erste Preisträgerin beim nationalen Musikschulwettbewerb. Nach einer klassischen Ballettausbildung und dem Abitur studierte sie Gesang an der Hochschule für Musik "Hanns Eisler" in Berlin bei Magdalena Hajossyova. Sie war mehrere Jahre Schülerin der Liedklasse von Dietrich Fischer-Dieskau und aktive Teilnehmerin bei Kursen von Julia Varady, Peter Schreier und Eberhard Büchner. Peggy Steiner wurde mit dem Stipendium der Bayreuther Festspiele und der Hans und Eugenia Jütting-Stiftung ausgezeichnet. Beim Wettbewerb der Bertelsmann-Stiftung "Schöne Stimmen" gehörte sie zu den Finalisten. Im Rahmen der Münchner Singschul' in München sang sie im Abschlusskonzert unter der Leitung von Marcello Viotti mit dem Bayerischen Rundfunkorchester im Prinzregententheater.
Neben dem Studium wirkte Peggy Steiner bereits im Rahmen der Musikfestspiele Potsdam Sanssouci in der Titelpartie von "Die Zauberinsel von Alcina" für Kinder mit Händel mit, die auch als CD bei der Deutschen Grammophon erschienen ist. Mehrere Konzerte führten die Künstlerin in das Konzerthaus Berlin sowie in die Berliner Philharmonie. Sie gastierte bei den Dresdner Musikfestspielen und dem Rheingau-Musikfestival. Außerdem wirkte sie als Sopran-Solo in Mendelssohns Oratorium Paulus unter der Leitung von Helmuth Rilling mit.
Ihr erstes Engagement führte Peggy Steiner für drei Spielzeiten an das Theater Hagen. Dort hatte sie u. a. großen Erfolg als Gugeline in der gleichnamigen Oper von Ludwig Thuille, als Anne Frank und als Norina in Don Pasquale. Danach wurde Peggy Steiner an das Staatstheater Saarbrücken engagiert, wo sie die Susanna in der Hochzeit des Figaro und mit besonders großem Erfolg die Marie in der Verkauften Braut gesungen hat, eine Partie, mit der sie auch am Theater Dortmund reüssieren konnte. Peggy Steiner gastierte als Susanna an der Komischen Oper Berlin, mit der Figaro-Gräfin und der Micaela in Carmen am Theater Flensburg, als Franziska Cagliari in Wiener Blut am Theater Lübeck und an der Staatsoperette Dresden, wo sie auch als Julia in Der Vetter aus Dingsda zu erleben war. Des weiteren sang sie mit dem Orchester der Nationen unter der Leitung von Justus Frantz Beethovens 9. Sinfonie im Palais des Beaux-Arts in Brüssel. Sie debütierte mit großem Erfolg bei den Schweriner Schlossfestspielen als Agathe im Freischütz. Des weiteren war die Sopranistin als Lisa in Das Land des Lächelns am Theater Bremen und Prinzessin Laya in Die Blume von Hawaii bei den Neuen Eutiner Festspielen zu hören. In Eutin gastierte sie erneut als Micaela in Carmen sowie als Kurfürstin im Vogelhändler. Neben ihrer Operntätigkeit widmet sich die Sängerin immer wieder dem Liedgesang und dem Konzertbereich. 
Eine enge Zusammenarbeit verbindet Peggy Steiner mit der Pianistin Claar ter Horst. Gemeinsam konzertierten sie mit zahlreichen Liederabenden in Deutschland und Holland.
Michael Heim
Michael Heim wurde in Bludenz geboren und ist in Thüringen aufgewachsen. Nach seinem Pädagogikstudium war er einige Jahre als Redakteur und Kulturjournalist bei russmedia tätig. Parallel absolvierte er sein Gesangstudium bei Prof. Habib Samadzadeh, KS Nicolai Gedda, KS Franzisco Araiza und
KS Irmgard Boas. Sein erstes Bühnenengagement führte Michael Heim 1998 an das Stadttheater St Gallen, seit 1999 ist er freischaffend tätig.
Opernhäuser: Zürich, Luzern, Dresden, Wien, Genua, Triest, Aberdeen, Tokio, Leipzig,Halle, Chemnitz, Essen, Bregenz, Innsbruck, Salzburg. Festivals: Salzburger Festspiele, Schubertiade Hohenems, Seefestspiele Mörbisch, Lehar Festival Bad Ischl, Musiktheater Schönbrunn, Coburger Sommeroperette. Konzerthäuser: Lincoln Center NY, Strathmore Washington, Hyatt Shanghai, Esplanade Singapur, Gewandhaus Leipzig, Beethovenhalle Bonn, Glocke Bremen, Philharmonie Essen und Köln, Residenz München, Frauenkirche und Philharmonie Dresden, Philharmonie und Konzerthaus Berlin, Brucknerhaus Linz.
Sinfonietta Da Camera Salzburg
Seit der Gründung im Jahr 2002 hat sich die Sinfonietta da Camera Salzburg zu einem der profiliertesten Ensembles Österreichs entwickelt. "Brillant", "mitreißende Umsetzung der Musik", "stilgerechte Aufführungspraxis", "ein Orchester auf spannenden Wegen" sind nur einige Stichworte der Presse. Dabei begeistern die engagierten Musiker vor allem durch ihre Leidenschaft und die stilistisch überzeugenden Interpretationen.
Gastspiele führen die Sinfonietta da Camera Salzburg durch ganz Europa, Asien und die Arabischen Emirate und zu etablierten Musikfestivals wie die "Salzburger Festspiele". Darüber hinaus war und ist das Ensemble von 2006 bis 2012 Orchestra in residence beim Salzkammergut Mozartfestival und seit 2013 beim Festival "Sound of Hallstatt".
Renommierte Solisten wie Rebecca Nelsen, Nemeti Gergely, Klara Kolonits, Bernhard Berchtold, Andreas Jankowitsch, Ulf Mädler, Bibiana Nwobilo, Wolfgang Schilly, Clemens Unterreiner, Adele Neuhauser und andere arbeiten regelmäßig mit dem Orchester zusammen.
Neben einer regen Konzerttätigkeit ist die Sinfonietta da Camera Salzburg immer wieder an Musiktheaterproduktionen aller Epochen im In – und Ausland beteiligt.
Memories you never forget
For more than half a century, millions of people around the world have been following the bitter sweet film story of the von Trapp family in the worldwide cinema hit "The Sound of Music". The film, starring Julie Andrews, was filmed in 1965 only a few kilometres as the crow flies from Hallstatt in Fuschl, Lake Wolfgang and Salzburg. Now it's time to open a new musical chapter: "The Sound of Hallstatt"
Lakeside Festival of Sound
Between April and December 2019, the Hallstatt-based musician, conductor and composer Peter Wesenauer, along with the Dachstein Salzkammergut Tourist Board, invites you to a varied series of concerts. Under the motto "The Sound of Hallstatt", the world-famous lakeside town presents itself from its musical side. You can expect a varied musical program during your holiday in Hallstatt. Always new. Always different. From Tango sounds to drinking songs, musical greetings from Prague, hits for kids and world-famous Christmas songs. Let yourself be surprised and be our guest this year at "The Sound of Hallstatt" - in the most beautiful lakeside town in the world!
Where can I get tickets?
You would like to attend this concert during your holiday in Hallstatt? Concert tickets are available before start of the concert at the box office. Find out more about the respective ticket prices below under "Information at a glance" Good entertainment!
Your accommodation for this event
Hotels and accommodation providers in Hallstatt, Bad Goisern, Gosau and Obertraun offer the ideal room or apartment for your holidays, no matter what your tastes. Aside from establishments rated according to the international "star" scale, you will also find around Lake Hallstatt in Austria businesses that have been awarded two to four "edelweiss". The more flowers, the greater comforts you can expect. Whether you eventually find your cozy nest in an elegant 5-star luxury hotel, at comfortable guesthouse, a family-friendly apartment, or on a traditional farm, the choice is always entirely up to you.