Barrel stave race in Obertraun
Date:

Sat, Mar. 30, 2019


This event has already taken place
Location:
Krippenstein

,

Obertraun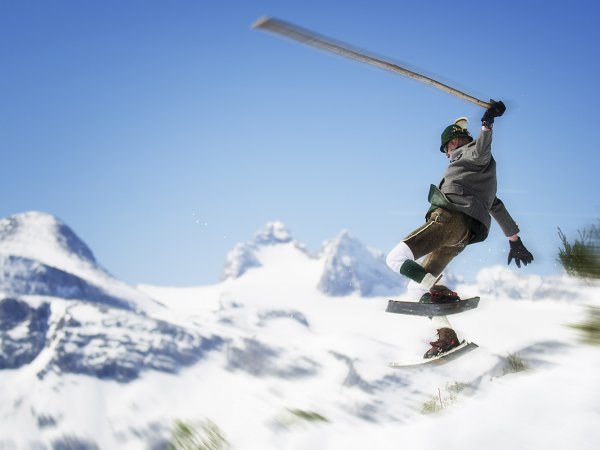 Just for fun!
The barrel stave race on Mount Krippenstein in Obertraun on Lake Hallsatt is the perfect combination of winter sports, entertainment and traditions and is one of the highlights of the winter season in the UNESCO World Heritage region of Hallstatt Dachstein Salzkammergut. Courageous protagonists launch themselves down a steep slope, on the curved planks of old barrels, just for the amusement of the spectators from home and abroad. The race times are irrelevant – it is the route to the finish line with its spectacular falls and crashes that people want to see.
A merry conclusion
At the award ceremony, each of the daredevil "racers" will be cheered as winners and both locals and visitors can spend a relaxing evening with the participants! And who knows, maybe there will be one or two brilliant insider tips for participation in the next barrel stave race in Obertraun on Lake Hallstatt. Check it out!
Adventure world for cavers and mountaineering fanatics
Whether you take a short trip with the Dachstein Krippenstein cable car to sunbathe on the vast Gjadalm, or visit the "Lodge am Krippenstein" for the unique panoramic view of the impressive Dachstein mountains - unforgettable mountain moments that can simply not be missed during a holiday in the Salzkammergut! Mountaineers of all ages will find a perfectly marked network of trails and unforgettable nature experiences at over 2,000 m: hiking on the Nature Trail via the Wiesberghaus to Hallstatt, a tour of discovery through the impressive karst landscape on the Heilbronner circular trail or a hike with overnight stay to the Simonyhütte. Many unforgettable sights, such as the spectacular "5fingers" viewing platform, the ship-shaped World Heritage spiral, fascinating cave worlds, or the iconic prehistoric shark, complete the wide range of excursions in the Dachstein hiking world. The mountains are calling - when will you call back?
Your accommodation for this event