Full moon trip across Lake Hallstatt
Date:

Sep. 13 - 15, 2019


This event has already taken place
Location:
Strandbad Obertraun

,

4831

Obertraun
From April to September 2019 on Lake Hallstatt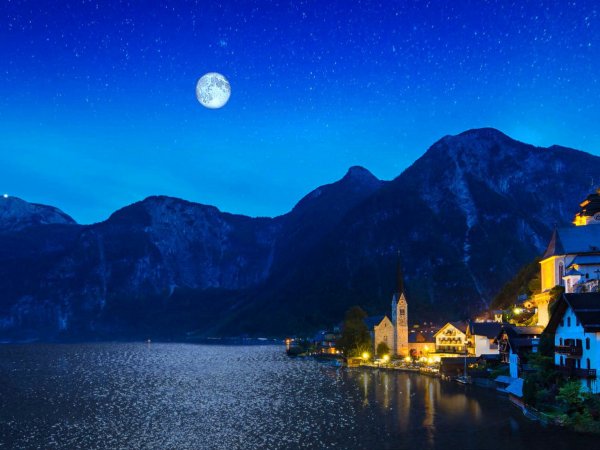 Romance on the lake
This traditional boat was once used to transport the "white gold", which was mined from the world's oldest salt mine in Hallstatt, over Lake Hallstatt and then continuing on the Traun to the Danube. This resulted in the historical profession of the salt skipper. Since 2014, guests from around the world have the opportunity to experience a piece of this history. Experience Lake Hallstatt at its best during a romantic full moon trip. Let yourself be enchanted by the picturesque backdrop of the world famous tourist town at night and enjoy some carefree holiday hours aboard a traditional salt ship.
Come aboard! Boating back to yesteryear
Take an extraordinary ride on Lake Hallstatt with NAVIA, and turn back time. In a Zille, sister to those that transported the "white gold" from Hallstatt's Salzberg, or Salt Mountain, into the wider world 500 years ago. The Zille is a historical boat type with a flat bottom. However, a Zille of the form typical for this area of Austria, the Salzkammergut, is called a Plätte or a Fuhre ("Fua"). Fuhren were working boats that once plied the waters of Lake Hallstatt and the River Traun. NAVIA will allow you to experience the unique appeal of this bygone era in a novel, wonderful way on board one of our hand-crafted, faithful reproductions of a historical Fuhre. . The fleet currently consists of two Zillen, both 12 metres long and 1.8 metres wide. A boatman with a steady hand will accompany you on your ride. Along the way, he will relate stories from the history of the region around the lake. And tell you just about everything you want to know about Hallstatt, the lake and the Zillen.
Events
Thu, Jun. 11, 2020 09:00 — 12:00 Obertraun, Obertraun
The history of the cult boat
How did the "Fuhr" evolve; the traditional wooden boat with which you romantically sail across Lake Hallstatt during your holiday in the Salzkammergut? The following YouTube video bears witness to the history of the "old salt vessel": From the initial idea and the planning, through to the construction, up to the first trip with the traditional wooden ship. Take a look inside. We'll see - during an unforgettable trip with the Navia on Lake Hallstatt in Austria.
Your accommodation for this event