Guided hiking tour on Mount Ktippenstein
Date:

Jun. 13 - Aug. 15, 2020


This event has already taken place
Location:
Dachstein-Krippenstein-Seilbahn

,

Winkl 34

,

4831

Obertraun
Fascinating Dachstein Mountains - Guided Family-friendly hike on trails and alpine footpaths with a few ascents and descents, sure-footedness necessary.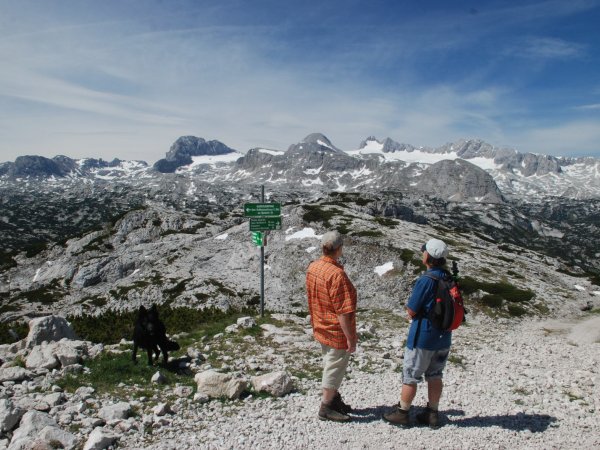 Important notice - please read!
Dear readers.
As of 3rd November 2020, all events throughout Austria have been canceled as security measures against the global Covid 19 pandemic. Whilst this is initially until 7th of January 2021, how it will continue after that is still unclear. Your editorial team.
Fascinating Dachstein Mountains
The Dachstein plateau is a fascinating high mountain landscape and due to its uniqueness UNESCO World Heritage. The forces of nature have created the karst area in millions of years, numerous fossils and karst shapes remain. Even today, rainwater still has an abrasive effect on water-soluble limestone. So let's find out in detail which typical karst forms are created and how it works.
Since the water flows almost entirely through countless fissures and crevices into the rock, the waterless surface has created a highly specialized plant world that blooms particularly intensely and colorfully in the short growing season.
It is a complete contrast to the rocky desert, just like many of the Dachstein pastures that were once here. They haven't been used for a long time, the bush is advancing, the huts have decayed or only the foundations of the huts are visible. Only the traces of a formerly flourishing alpine pasture can still be seen today, which for centuries supplied the prehistoric Hallstatt and its salt mine with alpine products.
The numerous sensory perceptions of this barren high mountain landscape inspire and fill us with strength and creativity. Like many representatives of art and science, we indulge to the magic of the landscape, which appears timeless as if it represents eternity, or to the train of clouds, which deals with the feeling of infinite freedom and the eternal longing for the distant unknown.
Afterwards you have some free time to visit the "World Heritage Spiral" on the Krippenstein or the "Five Fingers" with the breathtaking view to Hallstatt and Lake Hallstatt, as well as the exhibition "The Dachstein in Climate Change" in the Schönberg Museum.
Freie Unterkünfte zum Naturschauspiel