"Obertraun Mountain Moments": Echo and Weisenblasen at the lake
Location:
Lake Hallstatt - Obertrauner Bay (Obertrauner Bucht)

,

Obertraun
The incomparable end to an eventful day in the Salzkammergut! We hear each other to play the Weisenblasen as part of the "Obertraun Mountain Moments" directly on Lake Hallstatt!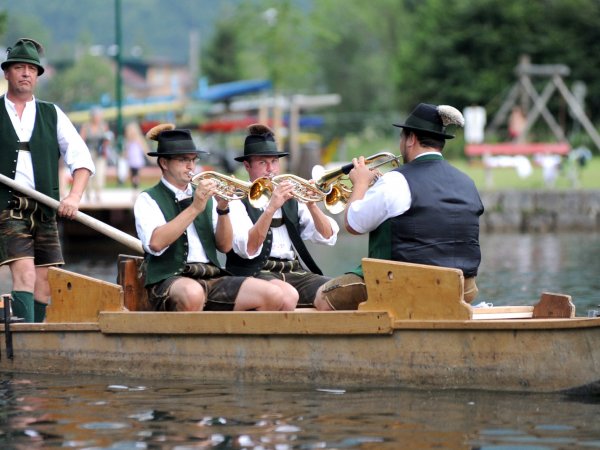 Music over the lake
When in the evening the sun sets over the Plassen - the local mountain of the Hallstatt people - and the last boats sail into the "harbours", then it becomes quiet on Lake Hallstatt. It is precisely at this time that musicians from the Obertraun local music band take to the lake on the Fuhr, the traditional boat of the people on the lakes in the Salzkammergut, and invite you to an unforgettable musical experience: the "Weisenblasen". Weisenblasen is the term for a small group of Alpine brass musicians usually consisting of at least a duo of Flugelhorns. It can be traced back to the turn of the century 1900 as a traditional act in connection with weddings, mountain masses etc.
The Lake Becomes a Stage
On this summer evening, the Obertraun bay becomes one of the most romantic places on Lake Hallstatt. Whether it's a dinner at the lakeside Seecafé, a barbecue, or an evening picnic on the lido grounds directly on the lake - the sounds of centuries-old tunes will thrill you! The incomparable end to an eventful holiday day in the Salzkammergut! We'll hear you at the Obertraun Mountain Moments directly at Lake Hallstatt!
What are the Obertraun Mountain Moments?
As the colours in the woodland begin to change and temperatures become more comfortable the time is on to go out for a hike! The Obertraun "Hiking in Autumn Program" includes hiking tours ranging from 500 m to 2100 m above sea level. Tours range from easy, in terms of difficulty, to very challenging. The Dachstein-Krippenstein cable car is a means of conquering 1600 m quickly and effortlessly! Discover more of your beautiful ,natural surroundings and go out and explore the Dachstein- Salzkammergut, either under your own steam, or by joining one of our all-time-popular escorted hiking tours in conjunction with the "Obertraun Mountain Moments".
Quickly and securely to the most beautiful apartments, the best hotels, the most cozy guest houses (B & B's) and the most spacious holiday homes around Lake Hallstatt and the Gosau Valley. Don't look around - book now! Just a click away!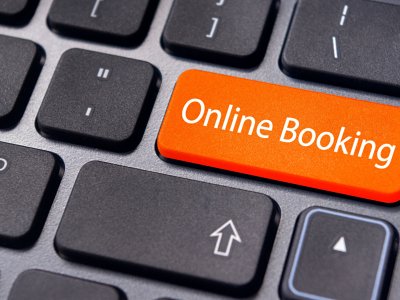 Magical mountain moments and traditional music events. Time to relax and moments of pure enjoyment. All dates can be found here with a click. Make this your unforgettable mountain experience this year.
As is well known, preparation is everything. Here we give answers to the question "What belongs in my hiking backpack?" The most important things for a great hike.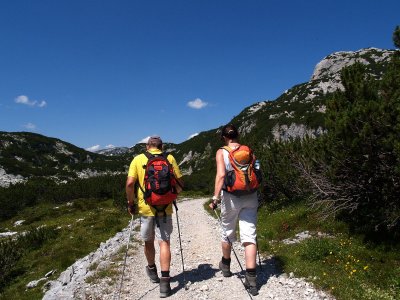 Your accommodation for this event