"Obertraun Mountain Moments 2022" Traditional evening in Obertraun
Date:

Thu, Aug. 11, 2022


This event has already taken place
Location:
Lido Obertraun

,

4831

Obertraun
Traditional folklore evening on the floating stage at the beach area in Obertraun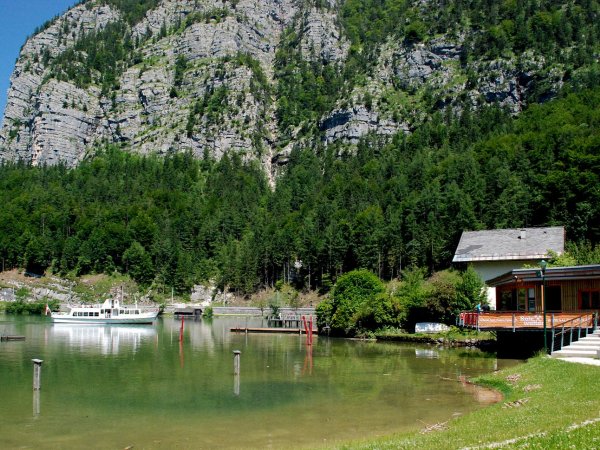 "Heimatabend" (folklore evening) on the floating stage at Obertraun beach
Round off an adventurous vacation day in Obertraun on Lake Hallstatt with a traditional folklore evening on the floating stage at the beach area in Obertraun. The Obertraun folk group perform old traditional dances from the UNESCO World Heritage region of Hallstatt Dachstein Salzkammergut. An evening full of typical Austrian traditions with music and dancing.
What are the Obertraun Mountain Moments?
As the colours in the woodland begin to change and temperatures become more comfortable the time is on to go out for a hike! The Obertraun "Hiking in Autumn Program" includes hiking tours ranging from 500 m to 2100 m above sea level. Tours range from easy, in terms of difficulty, to very challenging. The Dachstein-Krippenstein cable car is a means of conquering 1600 m quickly and effortlessly! Discover more of your beautiful ,natural surroundings and go out and explore the Dachstein- Salzkammergut, either under your own steam, or by joining one of our all-time-popular escorted hiking tours in conjunction with the "Obertraun Mountain Moments".
Magical mountain moments and traditional music events. Time to relax and moments of pure enjoyment. All dates can be found here with a click. Make this your unforgettable mountain experience this year.
Discover Obertraun – A world of limitless experiences
There's much to discover and experience in Obertraun on the southern shore of the idyllic Lake Hallstatt: hiking routes for all types, romantic spots, sport challenges, and winter wonderlands. Whether it's through water fun on the lake, relaxing at the Koppenlacke, or a bike tour along Lake Hallstatt, boredom is never the case in Obertraun. In terms of experience-rich outings, Obertraun offers the nearby historical town of Hallstatt with its Salzwelten salt mine, numerous hiking paths and visits to the fascinating ice caves within the Dachstein Mountain or the impressive "5fingers" viewing platform on the Krippenstein. In winter, snow-hungry visitors can also find their hearts' desires: freeriding, snowboarding, ski touring, and snowshoeing in the Freesports Arena Dachstein Krippenstein. From beginners to professionals, the Krippenstein has something for everyone. In both summer and winter, cosy mountain huts, such as the Lodge on the Krippenstein or the Schilcherhaus on the Gjaidalm, provide a relaxing finale to exciting hiking and thrilling skiing days. Boredom is yesterday's news – today it's all about Obertraun on Lake Hallstatt!
Freie Unterkünfte zum Almfest in Obertraun