CANCELD !!! "Obertraun Mountain Moments" Religious Worship on the Sarstein
Date:

Sat, Aug. 27, 2022


This event has already taken place
Location:
Naturfreundehütte Sarstein

,

4831

Obertraun
Heavenly experience for experienced hikers and nature lovers with endurance. In impressive scenery. Fantastically beautiful! Walking time to worship: 3 hours.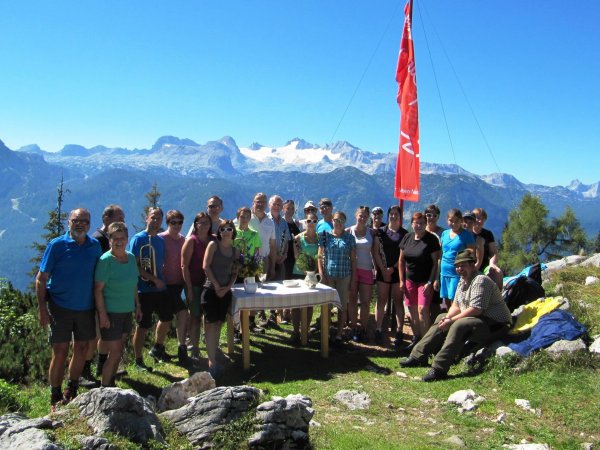 Unforgettable mountain moments
This extraordinary service, at 1,620 meters above sea level, starts at 11:30 in front of the unique natural backdrop of "King Dachstein" and is musically accompanied by Obertrauner musicians! After the mountain mass you are invited to the cosy afternoon!
From Goisern or Obertraun to the Sarstein?
The Obertraun "Sarsteinhütte" can be reached in about 3 hours hiking time from Obertraun or as part of a "crossing" from the Bad Goisern side and over the Sarstein summit in about 5 hours!
Many years ago the crucifix of the Obertraun "Sarsteinhütte" was furnished with the saying "Herrgott, d'Hoamat is sche" (God, the homeland is beautiful), which can not only be said for this mountain, but for the whole Inner Salzkammergut.
What are the Obertraun Mountain Moments?
As the colours in the woodland begin to change and temperatures become more comfortable the time is on to go out for a hike! The Obertraun "Hiking in Autumn Program" includes hiking tours ranging from 500 m to 2100 m above sea level. Tours range from easy, in terms of difficulty, to very challenging. The Dachstein-Krippenstein cable car is a means of conquering 1600 m quickly and effortlessly! Discover more of your beautiful ,natural surroundings and go out and explore the Dachstein- Salzkammergut, either under your own steam, or by joining one of our all-time-popular escorted hiking tours in conjunction with the "Obertraun Mountain Moments".
Weitere Bergerlebnisse in Obertraun
Sat, Sep. 16, 2023 11:30 Zwölferkogel, Obertraun
Thu, Oct. 26, 2023 10:30 Heilbronner Chapel, Krippenstein Obertraun
Magical mountain moments and traditional music events. Time to relax and moments of pure enjoyment. All dates can be found here with a click. Make this your unforgettable mountain experience this year.
Rustic! Incomparable! Simply Irresistible!
Simply get away from the hustle and bustle, surrounded by nature, cowbells ringing instead of your smartphone…. Holidays up on an Alpine pasture, or in one of the many mountain huts, are becoming increasingly popular. But it is not always easy to find the "right" Alpine pasture or mountain hut. Therefore, we have compiled the most beautiful "Mountain service stations" for you, with stunning panoramic pictures and the most important information for all "newcomers" and World Heritage hikers. As it is usual in the Simonyhütte, the Adamekhütte or Hütteneckalm in Bad Goisern to greet people informally with a "Du" rather that the formal "Sie", as we say here in the UNESCO World Heritage region of Hallstatt Dachstein Salzkammergut…. "Grias di"!
More mountain services in the Salzkammergut
Sat, Sep. 16, 2023 11:30 Zwölferkogel, Obertraun
Thu, Oct. 26, 2023 10:30 Heilbronner Chapel, Krippenstein Obertraun
Free accommodation for this mountain experience
Hotels and accommodation providers in Hallstatt, Bad Goisern, Gosau and Obertraun offer the ideal room or apartment for your holidays, no matter what your tastes. Aside from establishments rated according to the international "star" scale, you will also find around Lake Hallstatt in Austria businesses that have been awarded two to four "edelweiss". The more flowers, the greater comforts you can expect. Whether you eventually find your cozy nest in an elegant 5-star luxury hotel, at comfortable guesthouse, a family-friendly apartment, or on a traditional farm, the choice is always entirely up to you.