Fun Week at the ski region Dachstein West in Gosau
Date:
Location: Skiregion Dachstein-West , Gosau
Info: Die familienfreundliche Skiwoche in der Ferienregion Dachstein Salzkammergut läuft vom 5. bis 13. März in Gosau und Russbach am Pass Gschütt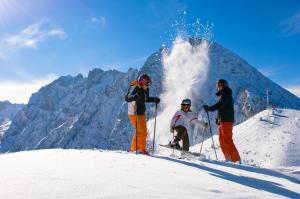 In the charming ski resorts Gosau, Annaberg & Russbach you can expect a varied program during the fun week. Fun week (Gausi Woche= with fun guarantee and excitement factor – each of the delightful ski resorts has something special to offer its cheerful guests!
Fun week Dachstein West:
The Fun Week starts at 6th of march
"Frühschoppen" at Gosaustub´n with the BRASSBAND Gosau

12th of march
Lady Race at Mossalm

13th of march
Alpenrocker Robert at Sonnenalm
We look forward to seeing you in the Dachstein West
Whoever spends their winter holidays in the Dachstein West ski resort in Gosau, loves the mountains and the attractive leisure activities: skiing, snowboarding, snowshoeing, and a wealth of events for both young and old winter sports enthusiasts. The extensive selection of ski schools for beginners and children and the perfectly equipped ski rental shops complete the great offerings for unforgettable adventure days in the snow. Explore the winter here in the UNESCO World Heritage region Hallstatt Dachstein Salzkammergut and the many possibilities of winter sports, and the next skiing holiday in Austria can get underway!
Information at a glance
Your contact to the Ski region of Dachstein West in Gosau in the UNESCO World Heritage region of Hallstatt Dachstein Salzkammergut
Dachstein Tourismus AG Gosauer Bergbahnen::
4824 Gosau
Austria
Phone: +43 (6136) 8854
E-Mail: info@dachstein.at
Our advice: Conveniently download prices, opening times and other information for your winter holiday in the Ski region Dachstein West in Gosau, as a PDF on your tablet or smartphone. So you are always well informed and have all important information at hand.
Rates & Family rates Winter season 2015/2016
Panorama Skiregion Dachstein West in Gosau
Free Internet access: Wi-Fi hotspots in all stations of the Hornspitzbahn in Gosau and in the mountain station of the Zwieselalm cable car make it possible. Stay up to date in the UNESCO World Heritage region of Hallstatt Dachstein Salzkammergut !
Winter season 2015 / 2016 in the Ski region of Dachstein West in Gosau/Austria:
Open from Sat. 4th of December 2015 right through to 3th of April 2016