Ö3 PistenBully rocks Dachstein West!
Date: Fri, Jan. 5, 2018
Time: 09:00 — 17:00
Location: Skiregion Dachstein-West , Gosau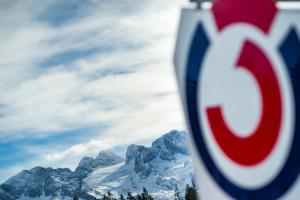 Ö3 PistenBully rocks Dachstein West! Out and about in Gosau, Russbach and Annaberg. Hit radio Ö3 once again has an event highlight in store for the winter season - the Ö3-PistenBully!
A snow groomer machine with the exceptional DJ-Kanzel on the back makes for quite a different sort of stage in the ski area. Head out onto the piste! Hit radio Ö3 is once again on tour throughout Austria this winter and will make a guest appearance on the Ö3 PistenBully out on the pistes. Dachstein West is on the tour agenda for  February 2015.
The Ö3 PistenBully is set to rock our ski area. The Ö3-DJ will shorten any waiting times at the lift with some Ö3 hits, while there will be chilled-out sounds playing on the sun terrace; the pistes are set to turn into a dance floor in this unique après-ski location!
Current weather view
Hikers and winter sports enthusiasts take note: Here you always get an actual live picture of the weather situation in Dachstein West hiking and skiing area in Gosau. With our webcam on the Zwieselalm you are always close to the action!
more...
Book your adventure now!
Whether you're a beginning or an experienced skier, the multi-page web portal of the holiday region Dachstein Salzkammergut (www.hallstatt.net, www.gosautal.net, www.bad-goisern.net and www.obertraun.net) offers a wide variety of resources including information about skiing, accommodations, and other news concerning winter sports in the world heritage region. Endless kilometres of ski slopes await discovery in the family-friendly ski regions of Dachstein West in Gosau and the Freeride Arena on the Krippenstein in Obertraun on Lake Hallstatt. For weekend excursions or unforgettable week-long adventures in snow, you'll find the most beautiful hotels, holiday apartments and bed & breakfasts in our extensive accommodations registry. Book your holiday now—get out there and enjoy the winter paradise of the UNESCO World Heritage Region of Hallstatt Dachstein Salzkammergut.
Information at a glance
Your contact to the Ski region of Dachstein West in Gosau in the UNESCO World Heritage region of Hallstatt Dachstein Salzkammergut
Dachstein Tourismus AG Gosauer Bergbahnen::
4824 Gosau
Austria
Phone: +43 (6136) 8854
E-Mail: info@dachstein.at
Our advice: Conveniently download prices, opening times and other information for your winter holiday in the Ski region Dachstein West in Gosau, as a PDF on your tablet or smartphone. So you are always well informed and have all important information at hand.
Rates & Family rates Winter season 2015/2016
Panorama Skiregion Dachstein West in Gosau
Free Internet access: Wi-Fi hotspots in all stations of the Hornspitzbahn in Gosau and in the mountain station of the Zwieselalm cable car make it possible. Stay up to date in the UNESCO World Heritage region of Hallstatt Dachstein Salzkammergut !
Winter season 2015 / 2016 in the Ski region of Dachstein West in Gosau/Austria:
Open from Sat. 4th of December 2015 right through to 3th of April 2016