"Prehistoric Expedition" through the oldest salt mine of the world
Date: Fri, May. 4, 2018
Time: 13:00 — 17:00
Location: Salzberg , 4830 Hallstatt
Info: Ever Friday from May to September 2018. Duration of tour: approx. 4 hours. Reservations required
7,000 years of salt mining
Get ready for a unique journey to ancient times: good physical condition, sturdy shoes and warm clothing are essential The unique and exclusive prehistoric expeditions bring you in small groups, and away from visitors trails, deep into the heart of the mountain. An expert guides you on this several-hour tour of the ancient history of the Hallstatt salt mine. Here, where it all began, you will become a researcher.
Equipped with protective clothing, helmet and lamp discover traces and relics from 7,000 years of salt mining, such as the famous Hallstatt hearts, kindling torches or the findspot of the world´s oldest wooden staircase. Here you will grasp history like never before. If you want to belong to the expedition team, you should have a good physical condition, wear sturdy shoes and warm clothing.
Events
Date: Sat, Mar. 3, 2018
Ort:  Salzwelten Hallstatt, Salzbergstraße 1 4830 Hallstatt
Feel the magic of bygone days and immerse yourself in a magical realm of glistening salt crystals, mysterious mine tunnels, where history comes alive.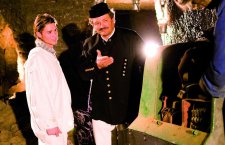 Hallstatt - Small village with a great history
The picturesque village on the lake with the same name owes its existence to the rich salt deposit of salt in the mountain of Hallstatt. 7000 years ago, as the prehistoric humans from Hallstatt began to take the salt from the salt mine who would of guessed, that this little village would give its name to a period in history – the Hallstatt period (800-400 BC). Rich findings in Hallstatt and the upper valley of Hallstatt gave this village international recognition; even today discoveries are still made in the salt mountain of Hallstatt.  Among the most beautiful places of interest are the oldest salt mine in the world and the ossuary in Hallstatt, a romantic boat ride on Lake Hallstatt, a trip to the breathtaking cave world in Obertraun and a visit to the Lake Gosau with the mighty Dachstein glacier. Additionally, Bad Goisern is popular in the summer with hikers and bikers. In winter guests are lured in by the ski areas of Dachstein West in Gosau and the Ski and Freeride Arena in neighboring Obertraun with perfect slope conditions. We wish you an unforgettable holiday in Hallstatt!
Your accommodation for this event
Information at a glance
Price/Services:
Return ride on the Salzberg Funicular Railway Hallstatt
Equipment (loan of jacket, trousers, helmet, light)
Guide for about 4 hours
Reservations required by calling +43 (0)6132 200-2400
Meeting point: Valley station Hallstatt
Price: : 50.- Euro per adult, 25.- Euro per child, max. 12 persons
Opening hours
Salzberg cable car 2018
Closed from 01.01. to 03.02.2018:


03.02. to 25.03.


Frist ascent: 9.00 hrs.
Last descent: 16.30 hrs.


26.03. to 30.09.


Frist ascent: 9.00 hrs.
Last descent: 16.00 hrs.


01.10. to 09.12.


Frist ascent: 9.00 hrs.
Duration of the ascent: about 3 minutes

Opening hours
Salt mine (Salzwelten) Hallstatt
Closed from 27th November 2017 until 2nd of March 2018
3 March to 25 March 2018: 9.30 to 14:30 hrs.*
26 March to 30 Sep. 2018: 9.30 to 16:30 hrs.*
1 Oct. to 9 Dec. 2018: 9.30 to 14:30 hrs.*
*Start of the last tour,
last ascent 14:00 hrs. (until 25 March)
or 16:00 hrs. (from 26 March)
or 14:00 hrs. (from 1 Oct.).
Time Manager
Salzwelten (Salt mine) Hallstatt
for the salt mine and the "Welterbeblick" viewing platform
Ascent and descent with a visit to the 'Salzwelten' - the oldest salt mine in the world and the "Welterbeblick" (World Heritage view) viewing platform about 3 hour.
Ascent and descent with a visit to the viewing platform "Welterbeblick" viewing platform about 1 hour.
Walking time on the salt mountain of between 50 minutes and 1 hour.
Please note that the ascent and descents depend on the number of visitors
Your contact to the
Salzwelten Hallstatt:(Salt Mine)
Salzbergstraße 1
4830 Hallstatt / Austria
Phone: 0043 (0) 6132 200 24 00
Additional Dates for this Event