Hiking in Autumn Program 2017
Autumn time is hiking time! Come and join us!
As the colours in the woodland begin to change and temperatures become more comfortable the time is on to go out for a hike! The Obertraun "Hiking in Autumn Program" includes hiking tours ranging from 500 m to 2100 m above sea level. Tours range from easy, in terms of difficulty, to very challenging. The Dachstein-Krippenstein cable car is a means of conquering 1600 m quickly and effortlessly! Discover more of your beautiful ,natural surroundings and go out and explore the Dachstein- Salzkammergut, either under your own steam, or by joining one of our all-time-popular escorted hiking tours in conjunction with the "Obertrauner Wanderherbst":
Colourful light shows
Tranquillity, as you have never experienced it before. Get up early in the morning, before sunrise and stand in front of the hut and be immediately surrounded by the unspoilt nature of the UNESCO World Heritage region of Hallstatt Dachstein Salzkammergut. Birds sing the first song of the day. Cowbells ringing in the distance, enjoy your morning coffee on the hut bench while tasting the fresh air - that's what people from all over the world find fascinating about a magical overnight stay in a hut in the holiday region of Dachstein Salzkammergut. Relax your eyes and gaze into the distance, forget everyday life, soak up the rays of the sun, feel the wind on your skin and just unwind. So have we filled you with desire? What are your criteria for a hut night?
Book online now!
Quickly and securely to the most beautiful apartments, the best hotels, the most cozy guest houses (B & B's) and the most spacious holiday homes around Lake Hallstatt and the Gosau Valley. Don't look around - book now! Just a click away!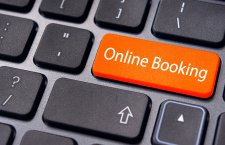 Accommodation
The nicest hotels, apartments, B&Bs, holiday homes and campsites, at a glance, for your stay in the Dachstein Salzkammergut holiday region. Booking rooms in Hallstatt, Bad Goisern, Gosau und Obertraun.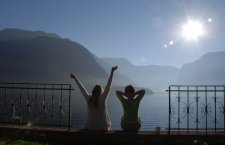 Heavenly Perspective
Lace up your hiking boots, load up your backpack and hit the trail! Enjoy gorgeous natural surroundings, charming architecture and friendly people as you wander down idyllic lanes and paths. The daily grind gets left behind and your head becomes as clear as the air in the high alpine landscape of the UNESCO World Heritage Region of Hallstatt Dachstein Salzkammergut. Along the well-marked paths, you will find the ideal conditions for escaping the monotony of everyday life. Whether you're a passionate mountain hiker or a nature enthusiast, traveling alone or with the entire family, you'll enjoy scaling our regional peaks. In our comprehensive route planner, you'll discover a variety of suggestions for creating your ideal hike. You can pick up a detailed hiking map at one of the four tourist offices of the Dachstein Salzkammergut holiday region. Each map describes favourite routes for exploring Hallstatt, Bad Goisern on Lake Hallstatt, Gosau and Obertraun. We hope you'll have a wonderful time discovering the wonders between our mountains and lakes!
Information at a glance
Grading of the Hiking Tours:
** =for "intermediates"- easy to moderately difficult tours. You do not necessarily need
to be an experienced hiker.
*** =longer and more strenuous tours: Suitable only for experienced walkers and
climbers. Proper safety equipment and high levels of fitness compulsory!
Important Information:
The guided tours are organized and accompanied by a local mountain guide. Please reserve a place, in advance, on all guided tours by contacting Tourist information in Obertraun. Phone: 0043 6131/351
The hiking tours as well as the Sunrise and Full Moon Trips can only take place when the weather is fine! Individuals must take full responsibility for providing suitable clothing and equipment.
Neither the Tourist Office Obertraun nor any individual person can accept any liability for any accident or loss of equipment/personal belongings. Please check in advance of all the events for possible changes to the program/itinerary or cancellation due to inclement weather!
Tourist Office Obertraun on Lake Hallstatt
Ferienregion Dachstein Salzkammergut
Tourismusverband Inneres Salzkammergut
Geschäftstelle Obertraun
Nr. 180
4831 Obertraun, Österreich, Austria
Phone: +43 (0) 5 95095 40
Fax: +43 (0) 6131 / 34222
E-Mail: obertraun@dachstein-salzkammergut.at
Homepage: www.obertraun.net

Opening times Tourist Office Obertraun
Janiary & February: Mon – Fri 8:00 - 17:00 hrs / Sat 9:00 - 13:00 hrs. / Son & Holidays closed
March to May: Mon – Fri 8:00 - 17:00 hrs / Sat, Sun& Holiday closed
June to September: Mon – Fri 8:00 - 17:00 hrs. / Dat 8.=0 13.00 hrs. / Sun & Holidays cloased
October & November: Mon – Fri 8:00 - 17:00 hrs. / Sat, Sun & Holidays cloased
December: Mon – Fri 8:00 - 17:00 hrs. / Sat & Son closed / Holiday 9.00 to 13.00 hrs.