The "Katrin Cable Car" in Bad Ischl
On the top of Bad Ischl
Enjoy a charming 15-minute drive to more than 1, 400 m above sea-level with spectacular views. Starting point for the magic 7-Lakes-View Hike (1.5 to 2 hours) or the impressive 3-Summits-Tour across the mountains of Katrin, Elferkogel & Hainzen. The via ferrata is a good option for adrenaline junkies! Be spoilt in the mountain guesthouse or at the alpine hut or on their sun terraces respectively.
7 Lakes View
Enjoy fabulous views: to the south the magnificent Lake Hallstatt, to the west the majestic Lake Wolfgang , and further beyond, perched higher up, Lake Fuschlsee. Lake Nussensee with its eme-rald color, the mystical Lake Schwarzensee and to north-east Lake Traun are also to see. at per- fect weather conditions you can see the Bavarian Lake Tachingersee in the far distance.
Panorama Routes
the network of the circular walk extends from lovely Feuer- and Rosenkögerl west-wards to the imperial Katrin summit and further to the beautiful Elferkogel, followed by the roman-tic hainzen and the mighty Rosskopf - always accompanied by the impressive mountain scenery of the Salzkammergut that will inspire you.
The cabin is located a few steps below the sum-mit station and looks back on a long tradition. It is easily accessible via a short descent and offers both, hikers in summer and ski touring lovers in winter, a cozy resting place to stay.
Der Katrin Berggasthof befindet sich bei der Seilbahn-Bergstation auf rund 1.400 Metern Seehöhe. Was unsere Küche "hinter den Kulissen" kreiert, überzeugt durch erstklassige Qualität und vielseitigen Geschmack aus der Region.
See five Salzkammergut lakes - only the "intermediate" via ferrata on Bad Ischl's Katrin excursion mountain can offer this. The tour covers about 150 metres in altitude and takes about two hours. The ascent is by cable car.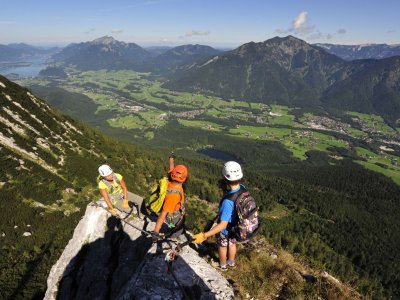 Rustic! Incomparable! Simply Irresistible!
Simply get away from the hustle and bustle, surrounded by nature, cowbells ringing instead of your smartphone…. Holidays up on an Alpine pasture, or in one of the many mountain huts, are becoming increasingly popular. But it is not always easy to find the "right" Alpine pasture or mountain hut. Therefore, we have compiled the most beautiful "Mountain service stations" for you, with stunning panoramic pictures and the most important information for all "newcomers" and World Heritage hikers. As it is usual in the Simonyhütte, the Adamekhütte or Hütteneckalm in Bad Goisern to greet people informally with a "Du" rather that the formal "Sie", as we say here in the UNESCO World Heritage region of Hallstatt Dachstein Salzkammergut…. "Grias di"!