Events
What's happening?
There is much to discover in the UNESCO World Heritage region of Hallstatt Dachstein Salzkammergut and in the numerous neighbouring towns. In our event calendar you will find the best tips for your holiday in the heart of Austria. For those who do not want to click around, we have summarised the best events in our seasons overview. We hope you enjoy browsing and have an unforgettable holiday in the Salzkammergut
Winter Special 2020
Starting point of the balloons: Directly on the Gosauseestraße between Vordertal and Mittertal in Gosau. Parking available! Every day between about 8:00 and 10:00 hrs.
Highlight of the event is the display of hot air balloons by night. A stunning visual treat! Spectators flock to the Gosau and see how enormous flames create the hot air needed to inflate these huge, brightly coloured balloons.
"Fly over" deep snow covered woods and fields, rivers and lakes and enjoy the soothing view of the wintry romantic Salzkammergut. Book your dream winter now during the Balloon Week on your holiday in Gosau and the Gosau Valley.
Narzissenfest 2020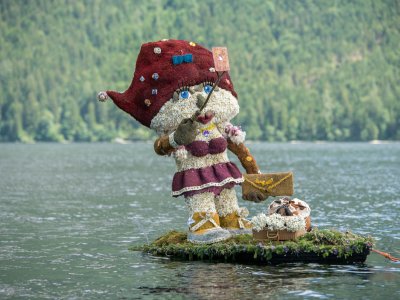 In a colorful round, the boats move with the daffodils figures near the shore of lake Altaussee.
Visitors have the opportunity to view the narcissus figures from 08.00 am accompanied by traditional music, and displays of local handicrafts and customs.