Explore the Fuschlsee region
Mountain, lake & holidays
The Fuschlsee area as part of Flachgau (Salzkammergut) is in a picturesque location between the Osterhorn mountain range and Lake Hintersee, just on the outskirts of the Festival City of Salzburg. Shimmering in varying shades of emerald green, Lake Fuschl is the very heart of the region, ringed by the awe-inspiring peaks of Filbling, Ellmau and Schober. Seven holiday resorts – Faistenau, Fuschl am See, Ebenau, Hintersee, Hof bei Salzburg, Koppl and Thalgau – welcome active travelers interested in walking and hiking, swimming, cycling and mountain biking. In winter the Gaißau-Hintersee ski area offers 40 kilometers of immaculate slopes and a variety of cozy mountain restaurants and lodges. In addition, there are 130 kilometers of cross-country skiing tracks, back-country skiing options at Osterhorn and Faistenau, as well as cleared winter walking trails.
Summer at Lake Fuschl
Relaxing on the lakeshore, basking in the sun, savoring fresh trout and letting one's thoughts drift away… A holiday in the Fuschlsee area always makes for a most relaxing experience. Hundreds of kilometers of hiking trails wind their ways across gently rolling hills, lush meadows and through vast forests. Mountain biking is another fascinating way of exploring some of the spectacular mountain scenery and Salzburg's most charming Alpine pastures. The Salzkammergut cycle path takes in a total of 13 lovely lakes.
Koordination, Mobilität, Gleichgewicht und Konzentration in "luftigen" Höhen: Waldkletterweg Faistenau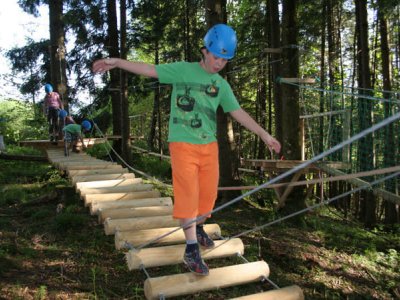 Swimming offers fun for the whole family! With water temperatures around 19 °C Lake Fuschl ensures refreshment on a hot summer's day. There are several public beaches around the lake, many of them with spacious sunbathing areas, beach volleyball courts and mini golf courses. Lake Hintersee is an absolute must-see for nature enthusiasts. Located amidst the Osterhorn Mountains, it is known as a so-called Place of Power.
Sustainable winter tourism
Forty kilometers of immaculate and uncrowded slopes and reasonable rates make the small but charming Gaißau-Hintersee ski area the preferred winter destination of visitors and locals alike. Nine ski lifts ensure hassle-free uphill transportation for both skiers and snowboarders, and quaint mountain lodges and restaurants welcome winter sports enthusiasts for meals and refreshments. Families with young children and novice skiers will appreciate the smaller ski areas and beginner's ski lifts in the area, such as Nocksteinlifte, Kesselmannlift or Schmiedhornlift in Faistenau.
Yet, a winter holiday in the Fuschlsee area has a lot more to offer! 130 kilometers of well-groomed tracks for diagonal stride and skating make cross-country skiing in the Fuschlsee area an unparalleled winter experience. In addition, Osterhorn and other mountains offer vast off-piste terrain for back-country skiing enthusiasts of all ages and ambitions. Lake Fuschl and Lake Hintersee are popular ice-skating venues especially among families and those who love ice-hockey. Another fabulous alternative to skiing is tobogganing: At the Lindaun toboggan track in Tiefenbrunn Valley and at Sausteigalm action and fun are guaranteed for the old and young.
Information at a glance