Daily trips across Lake Hallstatt
Date:

Apr. 1 - Oct. 31, 2021


This event has already taken place
Location:
Lake Hallstatt

,

Hallstatt / Obertraun
Ferry rides in ancient wooden boats, There's plenty to experience on the wold wooden boats!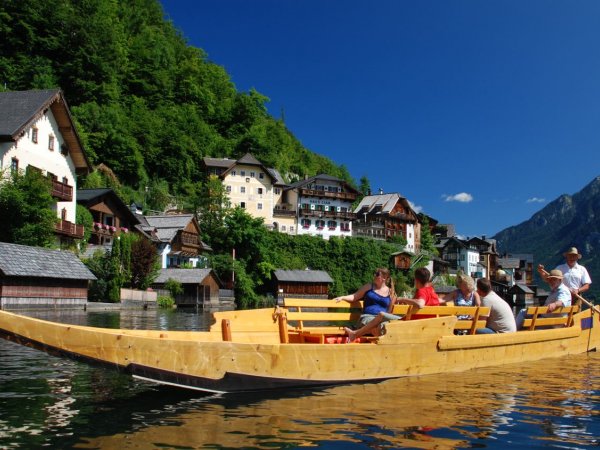 Boat rides in ancient wooden boats
Would you like to experience something very special during your holiday in the UNESCO World Heritage region of Hallstatt Dachstein Salzkammergut? Then check-in on one of the traditional salt boats. Nowadays, rather than transporting salt, these traditional boats ferry guests from around the world over the fjord-like Lake Hallstatt from Hallstatt to Obertraun.
These unique traditional boats, named "Fuhren" (punts) was once used to transport the salt (formerly referred to as "white gold") which was mined from the world's oldest salt mine in Hallstatt, over Lake Hallstatt and then continuing on the Traun to the Danube. This resulted in the historical profession of the salt skipper. Today, the "Fuhren" run daily, during the summer and offer the perfect opportunity to experience the lake during an approximately one-hour roundtrip or 15 minute crossing.
There's plenty to experience on the wold wooden boats!
Take the "Fuhr" from Hallstatt to the Seecafe in Obertraun for coffee and homemade cakes, or after an unforgettable day of hiking along the "Ostuferwanderweg" from the "Seerauzn" restaurant back to Obertraun or Hallstatt. Of course you can also go from Obertraun to Hallstatt and vice versa.
Furthermore, you can use the "Fuhrs" as a means of transport across the world famous lake and continue on foot, or other means of transport to reach the romantic Market Square in Hallstatt, small winding streets, the Catholic Church with its widely famous ossuary, the Dachstein Ice Caves in Obertraun or the breatktaking "Five Fingers" viewing platform - more than 300 metres above the abyss.
In this particular way of traveling you can appreciate the uniqueness of Lake Hallstatt, nestled between the mountains, and feel the power of the water during the silent crossing.
Come aboard! Boating back to yesteryear
Take an extraordinary ride on Lake Hallstatt with NAVIA, and turn back time. In a Zille, sister to those that transported the "white gold" from Hallstatt's Salzberg, or Salt Mountain, into the wider world 500 years ago. The Zille is a historical boat type with a flat bottom. However, a Zille of the form typical for this area of Austria, the Salzkammergut, is called a Plätte or a Fuhre ("Fua"). Fuhren were working boats that once plied the waters of Lake Hallstatt and the River Traun. NAVIA will allow you to experience the unique appeal of this bygone era in a novel, wonderful way on board one of our hand-crafted, faithful reproductions of a historical Fuhre. . The fleet currently consists of two Zillen, both 12 metres long and 1.8 metres wide. A boatman with a steady hand will accompany you on your ride. Along the way, he will relate stories from the history of the region around the lake. And tell you just about everything you want to know about Hallstatt, the lake and the Zillen.
Events
Mon, May. 1, 2023 Salzshop Hallstatt (Bus terminal), Seestraße Hallstatt
Your accommodation for this event