Caribbean New Year's Eve at the spa
Date:
Location: Narzissen Vital Resort, Pötschenstr. 172, 8990 Bad Aussee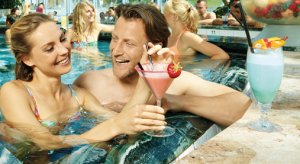 The New Year firecrackers in the Salzkammergut
Every year we ask ourselves the same old question "What are we doing on New Year's Eve? Fondue at home, restaurant, party? And how can we pass the time until the fireworks? Questions after questions, which are repeated each year? Why not enjoy an unusual New Year's Eve just for once? Experience something completely different? If so, then seeing in the New Year at the Narzissen Vital Resort spa in Bad Aussee is just for you. Before the corks are popped, you will have an unforgettable New Year's Eve party of extra class.
Every hour a highlight
Let yourself be pampered by the numerous wellness offers or go on extraordinary tour of discovery. A varied program along with a Creole gourmet buffet is waiting for you! And when the hands of the clock slowly move towards midnight and with wintry temperatures outside, indulge yourself in in a comforting-warm atmosphere with a Caribbean punch. Let yourself be pampered and enjoy a change of the year of a different kind: New Year's Eve at the spa. Happy New Year in the Narzissen Vital Resort of Bad Aussee. Further information and the detailed program can be found below under "Information at a glance". All the best for 2018!
Erst eintauchen und dann völlig entspannen
Mit herrlichem Panorama aufs Salzkammergut, wurde das "Narzissen Bad Aussee: Solebad & Vitalzentrum" als Spa- und Wellness Resort für Gesundheit und Vorsorge errichtet. Auf mehr als 500 m² Wasserfläche stehen unseren Gästen ein Soleaußenbecken, der einzigartige Salzkristall mit Solegrotte und Solesee, das Narzissenbecken, ein Relaxbecken und ein Multifunktionsbecken mit 3 Schwimm- bahnen zur Verfügung. Entspannen Sie in unserem Saunabereich mit unterschiedlichen Saunen und umfangreichen Aufgussprogramm und genießen Sie einen atemberaubenden Blick auf die Bergkulisse aus dem Soleaußenbecken. Das "Narzissen Bad Aussee" erreichen Sie bequem mit dem Auto aus der Welterberegion Hallstatt Dachstein Salzkammergut mit dem Auto über den Pötschen Pass oder den Koppen Pass (Achtung kann im Winter gesperrt sein). Natürlich auch mit Öffentlichen Verkehrmitteln wie den Österreichischen Bundesbahn (ÖBB) oder kostenlosen Ski-und Thermenbus ab Hallstatt, Bad Goisern, Gosau und Hallstatt.
Your accommodation for this event
Information at a glance
Your New Year's Eve program at the NarzissenBad in Bad Aussee
All-day quick styling* (manicure or pedicure incl. nail varnish)
14:00 Aquazumba with Latino music in the multifunctional pool
15:00 Aquarelax with gentle Latino music in the Solesee
16:15 Torchlight walk
18:00 "The fascination of salt" Infusion in the panoramic sauna from 18:00 Creole New Year's Eve buffet
Aroma oil massage*
18:30 Honey rub in the Narzissen steam bath
19.00 "Ice crystal" infusion & curling with a competition in the panoramic sauna from 19.00 Salsa & Latino live band "Montevideo"
20:00 "Hütten Gaudi" infusion in the panorama sauna from 20:00 competition
20.30 Salt rub in brine steam bath (salt crystal)
21:00 "Ausseer Forest" infusion in the panoramic sauna
22:00 "Balm for the Skin" infusion in the panoramic sauna
22:30 Salt rub in a brine steam bath (salt crystal)
23:00 Final infusion of 2017 in the panorama sauna
00.00 All waltz with Caribbean punch and sparkling wine

Price: Admission & buffet: 51.- Euro per person

Directions: From Hallstatt, Obertraun, Bad Goisern or Gosau on the Salzkammergut highway (B 145) "Pass Gschütt". Travel time by car between 20 and 30 minutes.

· at extra cost and with registration
Contact
Narzissen Vital Resort
Pötschenstr. 172
8990 Bad Aussee
Austria
Phone: +43 (0) 03622 / 55 300
Fax: +43 (0) 03622 / 55 300-500
E-Mail: info@vitalresort.at

Always new and current offers and opening times, prices and information about events can be found at our website: www.vitalresort.at