Bräugasthof Lobisser

Bräugasthof Lobisser

Verena Lobisser
Seestraße 120

,

4830

Hallstatt
+43 (0) 6134 / 8221
+43 (0) 6134 / 8221 - 4
The Braugasthof is a place to come for peace and tranquillity, for romance, and for the cosy comfortable atmosphere that can only be found in a family run business.
A warm welcome!
You will find us in the heart of the picturesque, small and famous former mining town of Hallstatt, whose dramatic culture and natural landscape, as well as its 7,000-year-old history, enchants salt visitors from all over the world. We are one of the houses built like a Swallow's Nest on the rock face between the Salzberg and the dark green lake. On our unique lakeside terrace under, under the century old chestnut tree and in the cosy, quaint guest rooms of an old beer brewery you will find peace and relaxation, food and drink.
First mentioned in records in 1472, Emperor Maximilian, the last knight, awarded the house brewing rights in 1504. Since 150 years, the Lobisser-Höplinger family has inhabitated, nurtured and cherished the time-honored house where one can also stay in one of the 8 cosy and romantic guest rooms with a fantastic lake views. Let yourself be enchanted by the Gothic architecture, the genuine ambiance and the flair of the beautifully renovated family business in the Bräugasthof on Lake Hallstatt.
The hotel
Find peace and relaxation in one of our 8 charming guest rooms. The antique furniture, lovingly restored by the landlord himself and the cheerful floral arrangements will make guests feel like they have entereted a cosy inhabited museum. And this is also what the brewery is. Whether it is a colourful farmhouse or a Renaissance tabernacle, the time-honored hosts will welcome you and lead you up the wooden, winding staircase, past ancient pictures, vaults and guest rooms to the comfortable rooms with the magnificent, open view of the mountains and lake.
Five of our rooms have balconies directly overlooking the lake. All rooms have shower, WC, SAT - TV, Internet and a wonderful breakfast buffet in "Bräustüberl" The rooms are available all year round with a small break in November and in March. In summer as in winter you can be enchanted by the gothic architecture, the genuine ambience and the family Lobisser with their professional, freiendly employees.
Events
Wed, Dec. 4, 2019 17:00 — 20:00 Hallstätter Marktplatz und in den idyllischen Gassen, Marktplatz Hallstatt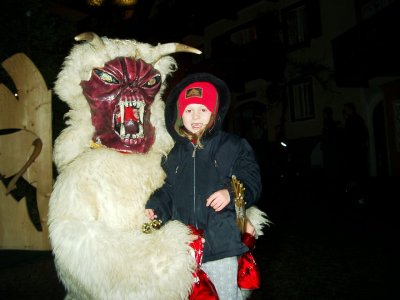 Thu, Dec. 5, 2019 18:00 — 23:00 Hallstätter Marktplatz und in den idyllischen Gassen, Marktplatz Hallstatt
The history of the house.
The oldest known record of the house dates back to 1472 and lists the building as a "Salzfertiger-Haus" (Salt traders house). Salt traders were citizens of Hallstatt, who had the imperial right to buy the salt from the saline and thus to trade. Back then, the salt was stored in tuns (wooden salt barrels in conical form) within the deep cellars, until they were loaded on to barges, (salt ships and predecessors of today's "Plätten" which are the traditional wooden boats you see) across Lake Hallstatt and continuing along the Traun and Danube rivers onto the "Black Sea". In 1504 Emperor Maximilian I, who was reffered to as the "last knight", granted the house brewing rights. Its own source of water guaranteed the production of an excellent, syrupy, bottom-fermented strong beer, which was served in the mighty vaults.
In 1917 the entire copper stock in the country had to be handed over to the government for melting down for the production of munitions. Unfortunately this included the three large brew kettles belonging to the brewery. Beer was always served to the citizens and saline workers, along with simple meals. Therefore besides serving beer and also Wine – they began to run a kitchen, which soon earned an excellent reputation among the summer guests, who visited the Salzkammergut for their summer holidays. After 400 years, the time-honored "Gemeinen Marktbräuhaus zu Hallstatt" (""Municipal Marktet Brewery of Hallstatt"), as listed in old documents bacame the "Bräugasthof" (brewery guesthouse). Since 150 years, the "Bräugasthof" has belonged to the Lobisser-Höplinger family. As she had no children of her own, Mrs. Miadl Klackl brought her nephew Josef Höplinger from St. Wolfgang to Hallstatt to continue the "Bräuhaus" and "Gasthof Simony".
With his diligence, enthusiasm and hard work, along with his wife Elfriede, he brought sensational innovations to his house; such as the first water closets in Hallstatt and a modern kitchen range. In such an old substance there are endless things that need to be repaired. Thanks to their handicraft skills and love for the house, the family, Verena with her Arnold, could upkeep the house and pass it on.
As a result this special treasure chest, bacame popular and appreciated by visitors from near and far, musicians and artists. After seven years of leasing, the daughter Verena Lobisser took back running the guesthouse in 2007. Each year a little is loveingly, discreetly and very tastefully renovated and renewed, without losing the original flair, in order to offer the guests the necessary comforts.
In the Bräugasthof there are many events, lots of music and many festivals. The Bräuhaus is a meeting place. This is where people come together. We look forward to your visit.
Facilities
Ausstattunng Zimmer
Bad
Balkon
Dusche
Fön
Himmelbett
Satelliten-TV
Seeblick
Terrasse
TV
WC
W-Lan
Gastronomie
Cafe (Nichtraucherbereich vorhanden )
Frühstücksraum (Nichtraucherbereich vorhanden )
Restaurant (Nichtraucherbereich vorhanden )
Gastgarten
Kinder
Kinderbett/Gitterbett
Kinderspielecke (innen)
Sport- und Freizeitausstattung
Abstellraum (nicht absperrbar)
Prices
Single room with shower/WC (Lake view) 80.- Euro per night incl. breakfast buffet
Double room with shower/WC (Lake view) 135.- Euro per night incl. breakfast buffet
Triple room with shower/WC (Lake view) 175.- Euro per night incl. breakfast buffet
Quadruple room with shower/WC (Lake view) 205.- Euro per night incl. breakfast buffet
Parking
Your route to the hotel ticket
Since there are only a few parking spaces in the centre of Hallstatt, a free shuttle service from the "P1" car park, with underground parking, will bring you safely and comfortably to your hosts on your arrival and departure days.
Details
Rates 2019
Hotel ticket
P1 incl. Shuttle (Arrival & departure)
Hotel ticket / per day
1-3 days: 14.- Euro / per day
4-7 days: 9.- Euro / per day
from day 8 to departure: 6.- Euro / per day
Further information on parking in Hallstatt and details of the hotel ticket can be found below under "Parking with accommodation in the centre".
Picturebook of the region around Lake Hallstatt
With all its magical charms, you will never want to leave! An inspirational retreat for philosophers, literary figures, artists and emperors. Experience the intimate atmosphere of this beautiful region. You will feel truly at home, and once here, you will know in your heart that there is no place you would rather be! The broad, tranquil Goisern valley stretches fromHallstatt in the south to Bad Ischl the Emperor's summer residence, to the north. A popular resort in both summer and winter, swimming or cross country skiing, mountain biking or and snowshoe hiking are among the many leisure pursuits Bad Goisern at Lake Hallstatt has to offer. Bad Goisern, located in the heart of Upper Austria, offers that perfect combination of sport facilities, nature, culture and historic tradition.