Free Snowshoe hikes on Mount Feuerkogel
Location:
Feuerkogel

,

4802

Ebensee
Together with a local guide you'll explore the wintry alpine world on Upper Austria's sunniest spot and enjoy the fantastic panorama. Every Wednesday from 03.02.2021 – 31.03.2021.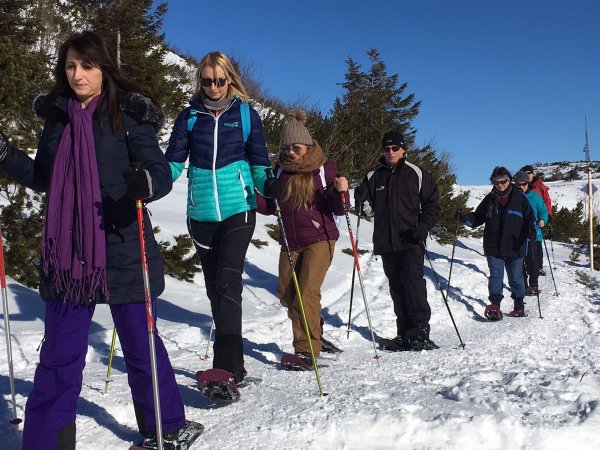 Important! Please read!
New Lockdown. Please note that from 22.11.2021 - 17.12.2021 all events are cancelled. You can find more info about "Covid 19" here...
Guided snowshoe hike, meeting point: 10.30 hrs. Drachenparkhütte on Mount Feuerkogel in Ebensee.
Every Wednesday, guided snowshoe hikes are arranged by the Feuerkogel. Together with a local guide from ski school Neuhuber, you'll explore the wintry alpine world on Upper Austria's sunniest spot and enjoy the fantastic panorama. Depending on the weather, wind and mood, you'll hike up together to the Helmeskogel or European Cross on Alberfeldkogel mountain
NOTE:
Not included: Ascent and descent by Feuerkogel cable car and snowshoe equipment!
Tip:Rent the snow shoes at a very favourable tariff at ski rental Feuerkogel (mountain station)!
Snowshoe hiking at Feuerkogel
TIP: Snowshoe ticket
Depending on the weather, wind and mood, you'll hike up together to the Helmeskogel or European Cross on Alberfeldkogel mountain
NOTE:
Not included: Ascent and descent by Feuerkogel cable car and snowshoe equipment!
Tip:Rent the snow shoes at a very favourable tariff at ski rental Feuerkogel (mountain station)!
Snowshoe hiking at Feuerkogel
TIP: Snowshoe ticket
You need snowshoes? No problem, with our snowshoe ticket you get the cable car journey (ascent + descent) AND
snowshoe rental (snowshoes + poles) at a very reasonable combined price: adult 31,70 Euro, child 16,20 Euro
Your accommodation for this event