open air concerts on the historic market place
Location:
Hallstätter Marktplatz

,

Marktplatz

,

4830

Hallstatt
Musical highlights summer on Lake Hallstatt. Each year, the promenade of Lake Hallstatt and the picturesque backdrop of the historic market place become the scene of musical treats. Be enchanted by the sounds of the Hallstatt Saline band and enjoy the wonderful hours on Lake Hallstatt.
To leave nothing to be desired, numerous establishments provide for your well-being. The concerts are a true summer highlight and should not be missed during any Hallstatt holiday.
Hallstatt | Concerts of the Saline band: Romantic and unforgettable! Concerts on Lake Hallstatt and the picturesque market square. The highlight in your Salzkammergut holiday.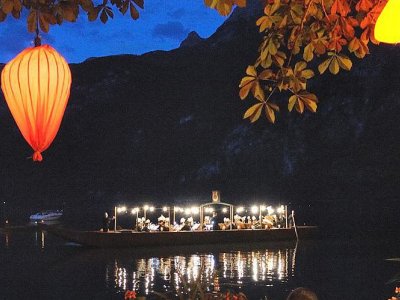 Rustic! Incomparable! Simply Irresistible!
Simply get away from the hustle and bustle, surrounded by nature, cowbells ringing instead of your smartphone…. Holidays up on an Alpine pasture, or in one of the many mountain huts, are becoming increasingly popular. But it is not always easy to find the "right" Alpine pasture or mountain hut. Therefore, we have compiled the most beautiful "Mountain service stations" for you, with stunning panoramic pictures and the most important information for all "newcomers" and World Heritage hikers. As it is usual in the Simonyhütte, the Adamekhütte or Hütteneckalm in Bad Goisern to greet people informally with a "Du" rather that the formal "Sie", as we say here in the UNESCO World Heritage region of Hallstatt Dachstein Salzkammergut…. "Grias di"!
Events
Fri, Aug. 14, 2020 21:00 Hallstätter See, Hallstatt
Fri, Aug. 28, 2020 20:00 — 22:00 Hallstätter Marktplatz, Marktplatz Hallstatt
Your accommodation for this event