Photo Walk on 2000 meters
Date:

Aug. 21 - 23, 2020


This event has already taken place
Location:
Lodge am Krippenstein

,

Winkl 52

,

4831

Obertraun
Eyes on Alpine Wilderness of Dachstein Mountains. Friday 21st until Sunday 23rd August 2020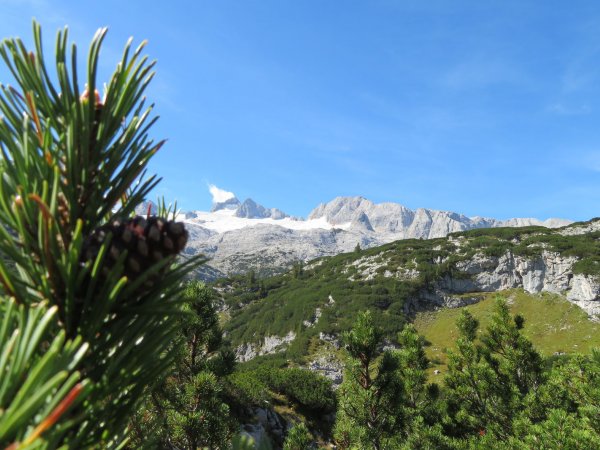 Eyes on Alpine Wilderness
of Dachstein Mountains
Only a few areas are largely untapped and still harbour alpine primeval landscapes. The extensive limestone plateaus of the Dachstein and Dead Mountain range are among the largest alpine wilderness landscapes in Austria. Even hiking trails are sometimes rare here.
The Dachstein's intoxicating scenery from Krippenstein offers true wilderness experiences away from the intensively developed ski facilities. The huge karst plateau consists mainly of desert-like rock terrain (with some glaciers around the Hoher Dachstein but disappearing) and a sheer endless plateau with stone and mountain pines, small forest groups, alpine meadows and karst formations. The central part is significantly called: "Am Stein".
The WWF notes (Book of the Wild, WWF, 2016): "The Dachstein Plateau is characterized by its unusual extent and the still preserved nature and remoteness. On the plateaus two large areas of about 3,000 ha can be found, which are still uncut. Not even hiking trails are there."
In the upper altitudes are huge fields of mountain bushes and alpine lawns and rock habitats landscaping. Common breeding birds in the area are above the tree line species such as mountain pipit or birch-toed, alpine brown or snow sparrow. Due to large undisturbed habitats, birch and grouse are particularly well represented.
The lonely area has its own charms: breath-taking views, clear views of sunrise and sunset, proximity to the sky and its cloud formations or its star splendour, bizarre rock formations, hidden water life in little tarns and the wondrous world of alpine flora.
We will explore the mighty Dachstein plateau on hiking trails and try to edit photographically the enormous spaciousness (do not forget the wide angle!) as well as the pictorial world of the karst and the tiny colour-intense wonders at our feet with the macrolens.
Maybe marmots, snow hare, chamois, ptarmigan or golden eagle (telephoto lenses!) will show up ... From Krippenstein (overnight stay) you can take photos (in fair weather) of magnificent sunrises and sunsets - as well as the night sky.
Base camp is in the Lodge [https://www.lodge.at/] at Krippenstein on 2063 m above sea level (up and down by cable car).
Program
Day 1
Friday, 21st of August 2020: Arrival and meeting point at 15:00 hrs. Check-in, getting to know each other and the first hike to the two viewpoints "World Heritage Spiral" and the "Five Fingers". Photographing in the evening light and capturing the magic of the sunset, finding out how the camera works and its main settings.
Day 2
Saturday, 22nd of August 2020: Sunrise photography (6:00 hrs.), after breakfast, walk towards Meisenbergalm. Lunch picnic. Return to the lodge about 17:00 p.m. In the evening exchange of experiences and tips, picture evaluation...
Day 3
Sunday, 23rd of August 2020: Water in the karst mountains, hike to Däumelsee and Däumelkogel. Return to the valley around 16:00 hrs.tails:
About Matthias Schickhofer
Matthias Schickhofer is a nature photographer, book author, campaign and NGO consultant, journalist, nature tourism promoter. Grown up in the Waldviertel, he lives in Vienna, works in Europe. He is committed to the protection of primeval forests (mainly in Romania) and threatened wilderness refuges. Focus on wilderness and primeval forest photography.
Information about his books: "Our jungle, the last wild forests in the heart of Europe" as well as "Schwarzbuch Alpen - Why we have to save our mountains", both published by Brandstätter Verlag, Vienna.
Your accommodation for this event
Hotels and accommodation providers in Hallstatt, Bad Goisern, Gosau and Obertraun offer the ideal room or apartment for your holidays, no matter what your tastes. Aside from establishments rated according to the international "star" scale, you will also find around Lake Hallstatt in Austria businesses that have been awarded two to four "edelweiss". The more flowers, the greater comforts you can expect. Whether you eventually find your cozy nest in an elegant 5-star luxury hotel, at comfortable guesthouse, a family-friendly apartment, or on a traditional farm, the choice is always entirely up to you.