"Yodeller" brass music in the Gosau Valley
Date: Wed, Jul. 4, 2018
Time: 20:00
Location: Kalvarienberg, 4824 Gosau
Info: Every Wensday in July and August 2018.
A living World Heritage tradition
Would you like to experience a singularly unique event during your holiday in the UNESCO World Heritage Region of Hallstatt Dachstein Salzkammergut? Then we would like to invite you to the traditional "Yodeller" brass music concert on the Gosau Kalvarienberg (Mount Calvary). Every Wednesday evening, the Gosauer Weisenbläser brass band performs an atmospheric concert of yodelling and brass melodies against the stunning mountain backdrop above the village of Gosau. On a fine day, the beautiful tones can be heard throughout the entire valley!
Tip: Combine this traditional cultural event in Gosau with a stroll through the village church quarter or along the Gosau themed path, or perhaps you'd like to conclude an unforgettable hiking day on the Gosauer Panorama Trail with the "Yodeller" brass concert.
Events
Date: Jul. 4 - Aug. 29, 2018 , 10:00 — 20:00
Ort:  evan Kirche Gosau, Gosau 179 4824 Gosau
Hear a lot of intresting historical stories of Gosau and the Reformation Time.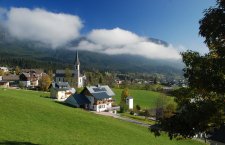 Your accommodation for this event
Information at a glance
Contact
Tourist Office Gosau
Ferienregion Dachstein Salzkammergut
Tourismusverband Inneres Salzkammergut Geschäftsstelle Gosau
Nr. 547
4824 Gosau, Austria
Phone: +43 (0) 5 95095 20
Fax: +43 (0) 6136 / 8255
E-Mail: gosau@dachstein-salzkammergut.at 
Homepage: www.gosautal.net

Regular opening times
Tourist Office Gosau
November to April: Mon – Fri 8.30 - 17:00 hrs.
Sat./Sun./Holiday 9.00 - 15.00 hrs
May to October: Mon. – Fri. 8.30 - 18.00 hrs.
Sat, Sun & Holidays 9.00 - 15.00 hrs.


Additional Dates for this Event