Krampus run in Obertraun on Lake Hallstatt
Date: Wed, Dec. 5, 2018
Time: 19:00
Location: Gemeindeplatz Obertraun, Obertraun 180, 4831 Obertraun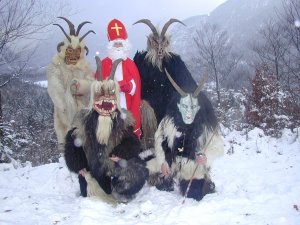 On the Krampus parade in Obertraun on 5th of December at the market square the good St. Nicholases will meet more than 30 Krampus and Perchten.
Whatwho is Krampus ?
"The word Krampus originates from the Old High German word for claw (Krampen). In the Alpine region the Krampus is represented by an incubus in company of St Nicholas. Traditionally, young men dress up as the Krampus in the first two weeks of December and particularly in the evening of 5th of December and roam the streets frightening children (and adults) with rusty chains and bells. In some rural areas also slight birching especially of young females by the Krampus is part of tradition."
The present day Krampus costume consists of red wooden masks or Larve, black sheep's skin and horns. Considerable effort goes into the manufacture of the hand-crafted masks, as many younger adults in rural communities engage competitively in the Krampus events.
Events
Date: Wed, Dec. 5, 2018 , 18:00 — 23:00
Ort:  Hallstätter Marktplatz und in den idyllischen Gassen, Marktplatz 4830 Hallstatt
Date: Fri, Dec. 7, 2018 , 17:00
Ort:  Marktplatz Bad Goisern, Marktplatz 4822 Bad Goisern
700 "Krampusses" and demons, St Nicholasses and good angels will assemble once again in the market square in Bad Goisern for this annual event.
World Heritage Advent in Austria
Around Lake Hallstatt: Be enchanted by the numerous events of the World Heritage Advent. Some of those events have attracted way beyond the region since many years. So just be enthralled by those highlights of the advent.
Information at a glance
Contact
Tourist Office Obertraun on Lake Hallstatt
Ferienregion Dachstein Salzkammergut
Tourismusverband Inneres Salzkammergut
Geschäftstelle Obertraun
Nr. 180
4831 Obertraun, Österreich, Austria
Phone: +43 (0) 5 95095 40
Fax: +43 (0) 6131 / 34222
E-Mail: obertraun@dachstein-salzkammergut.at
Homepage: www.obertraun.net

Opening times
Tourist Office Obertraun
November to April: Mon – Fri 8:30 - 17:00 hrs
Sat, Son & Holidays 9:00 - 15:00 hrs
May and October: Mon – Fri 8:30 - 17:00 hrs
Sat, Sun& Holiday closed
June to September: Mon – Fri 8:30 - 18:00 hrs
Saturday: 9:00 - 13:00 hrs
Your accommodation for this event
Additional Dates for this Event